Meet Juan Luis Guerra's Protégé: Vicente Garcia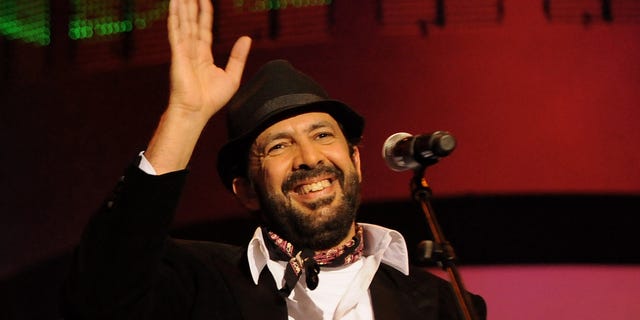 Juan Luis Guerra's protégé Vicente Garcia is not your typical Dominican artist.
Hailing from a country where Merengue and Bachata are usually the norm, Garcia has cut out his own path fusing soul, reggae and even old school Mo-Town.
"I had the opportunity to visit many countries while touring with Juan Luis Guerra during his tour 'La Travesia'," Garcia says. "It made me realize the power of Dominican music. It made me want to express my own music."
Guerra, who said he thinks Garcia "is a great composer" took Garcia under his wing when he was just 13-years-old and a member of the former band "Calor Urbano."
"His songs are new and really beautiful," Guerra said in an interview posted on Garcia's YouTube Channel.
Now, 28, the singer recalls taken a year "to experiment" in the studio and put together his latest album "Melodrama" which also includes Boogaloo and Fania influences.
"I took that year to really play with Bachata, soul and even salsa," Garcia said. "We were in Brooklyn in a studio with a lot of old equipment that allowed us to obtain that old school feel to the music."
"I love incorporating Dominican elements into my music," he added. "That has a lot of value to me."
Guerra agreed with Garcia.
"I've followed closely the development of this CD 'Melodrama' and he has achieved in obtaining an innovative and unique sound."
Besides being mentored by one of the staples of Dominican music Juan Luis Guerra himself, Garcia has worked with major artists such as Mana and Shakira, who incorporated Merengue beats in her latest album "Sale el sol" in shuch smash hits as "Loca" and "Rabiosa."
Garcia also caught the eye of Mexican singer Ximena Sariñana after boldly sending her two of his demos in hopes she would collaborate with him.
"Working with her was so gratifying," Garcia recalls. "It was such a surprise because I wasn't even signed yet."
"I flew out to her home in Guadalajara and we recorded songs for four days straight," added Garcia. "It was very cool of her to sing with me."
One thing Garcia says he's learned from working with these music icons is the importance of being true to oneself and having a strong work ethic when creating music.
"In order to reach a unique sound this has to come from the heart," Garcia said. "You have to do this based on your identity and to me that lies in my home country. Know who you are."
"I write songs almost every day," Garcia added. "And now, I'm taking the time to fine-tune my songs."
You can reach Alexandra Gratereaux at: Alexandra.Gratereaux@foxnewslatino.com or via Twitter: @GalexLatino
Follow us on twitter.com/foxnewslatino
Like us at facebook.com/foxnewslatino