Matthew Broderick to appear on 'The Conners' as guest star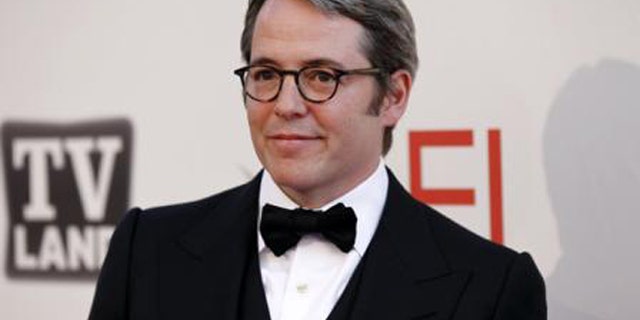 Matthew Broderick's got a new gig.
The 56-year-old actor is joining ABC's The Conners, ET has learned. Broderick has scored a guest arc as a love interest for Jackie (Laurie Metcalf). He'll make his first appearance on the show's Halloween episode, airing on Tuesday, Oct. 30.
A logline for the episode, titled "There Won't Be Blood," reads: "It's Halloween, the favorite time of year for the Conners, but an email from the school banning certain costumes, including Mark's, sets off an argument between Dan and Darlene. Jackie introduces someone new to the family at the Halloween party and insists that Dan vet him, only to immediately wish that she hadn't, on an all-new episode of The Conners."
'The Conners' Star Lecy Goranson Has 'A Lot of Empathy' for Roseanne Barr Following Premiere (Exclusive)
In addition to his appearance on The Conners, Broderick is set to star on Netflix's dramedy, Daybreak. He'll be playing the "cheerful, upbeat" Principal Burr in the upcoming high school apocalypse series, ET confirms. His character is described as "genuinely trying to be part of the solution: a good guy, an advocate and ally for all."
The 10-episode series follows 17-year-old outcast Josh and a gang of misfits as they search for Josh's missing girlfriend, Sam, in a post-apocalyptic Glendale, California. The show is set to premiere in 2019.
Roseanne Barr Reacts to the 'Morbid' Way 'The Conners' Killed Off Her Character
The Conners premiered on Tuesday and addressed the absence of Roseanne star Roseanne Barr. After it was revealed that Barr's character had been killed off due to an accidental overdose of opioids, the comedian released a statement slamming the episode, explaining that the decision to have her die from drug abuse "lent an unnecessary grim and morbid dimension to an otherwise happy family show."
After the episode aired, star Lecy Goranson told ET: "I don't know what show that she's referring to but I've never seen our show as a happy family show. I think our show is funny, I think that it's real, I think that everyone who's on the show and a part of the show has a vested interest in it being grounded and for it to resonate, I just don't see it as a happy family show."
'The Conners' Star Michael Fishman Says It Was 'Heartbreaking' When 'Roseanne' Was Canceled (Exclusive)