Mariah Carey to have intimate wedding to James Packer; confirms docu-series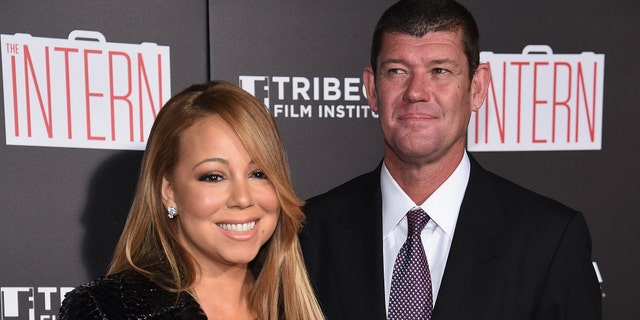 Mariah Carey wants to keep her third wedding all about her and her future husband, which explains why she is reportedly inviting only about 50 people.
According to TMZ, Carey and billionaire fiancé James Packer are planning to exchange vows in an intimate and exclusive ceremony on the Caribbean island of Barbuda.
Sources told the gossip website that the couple is planning to get married this summer on the island — where Packer is building a private $250 million resort with actor Robert De Niro.
Carey, 46, and Packer, 48, announced their engagement in January after seven months dating.
A date has not been set, but according to TMZ it probably won't happen until after mid-June due to Carey's prior commitments.
Carey has just kicked off her first European tour in nearly a decade and is currently filming a new 8-part documentary series called "Mariah's World."
"I'm excited to bring my fans into my life for the next journey I'm about to embark on," the songstress said Tuesday in a statement. "I'm already having so much fun with this documentary and I know you will too. There is nothing like capturing these moments."
In an interview with the New York Times, Carey said she refuses to call it a reality show and that it's about allowing her fans to get to know her better.
"I thought it would be a good opportunity to kind of, like, show my personality and who I am, even though I feel like my real fans have an idea of who I am," she said. "A lot of people have misperceptions about this and that."
The series is expected to debut later this year on E!