Madonna hits back with Instagram post about being a single mom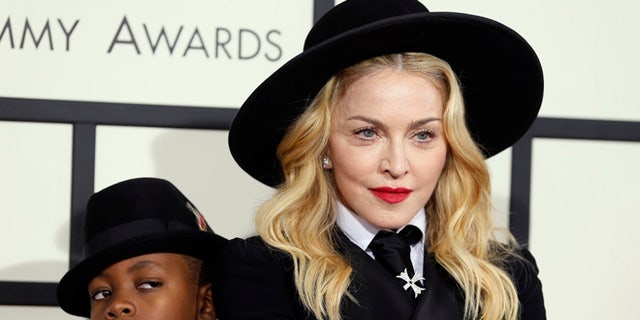 NEWYou can now listen to Fox News articles!
Looks like Madonna's had it with all the bad mom claims.
The "Material Girl" girl singer — whose riff with her son, Rocco, made headlines over the holidays — posted a photo of her with her four kids on Instagram Saturday afternoon.
"Its possible to be an entertainer and a good mother!!!" she wrote on the post. "Too bad we don't live in a society where many encourage strong independent single working moms!"

The New York Post reported last week that insiders say her teens — 15-year-old Rocco and 19-year-old Lourdes — "crave stability" and feel that their mother is "too controlling."
"Rocco spent most of the second half of 2015 on tour with his mother and got upset about not spending enough time with her," said a movie associate of Madonna's ex-husband, Guy Ritchie. "Even by her ruthless standards, Madonna has been particularly driven on the tour, and when Rocco did see her, he felt like she was trying to micromanage his life."
Madonna also makes her kids abide by her macrobiotic diet (sweets, chocolates, dairy, salt and preservatives are outlawed), TV is banned and if the kids leave clothes on the floor, the items are taken away.
In addition to Rocco and Lourdes, Madonna is mom to David Banda, 10, and Mercy James, 9. Lourdes is from Madge's relationship with Carlos Leon, Rocco is from her marriage with ex Guy Ritchie and David and Mercy were both adopted from Malawi.
Click here to read more in the New York Post.