Luke Perry's 'Beverly Hills, 90210' co-stars Shannen Doherty, Tori Spelling 'heartbroken' over star's death
Luke Perry's former "Beverly Hills, 90210" co-stars are in shock over his sudden passing.
Shannen Doherty and Tori Spelling reacted to the tragic news after learning that the actor died on Monday at only 52 years old in Los Angeles after suffering a massive stroke last week.
'BEVERLY HILLS, 90210' STAR LUKE PERRY'S MOST ICONIC ROLES, FROM 'BUFFY THE VAMPIRE SLAYER' TO 'OZ'
"I am in shock. Heartbroken. Devastated by the loss of my friend. I have so many memories with Luke that make me smile and that are forever imprinted on my heart and mind," Doherty, 47, told People magazine.
Doherty starred as Brenda Walsh on the '90s teen drama series and was the love interest of Perry's Dylan McKay.
"Luke was a smart, quiet, humble and complex man with a heart of gold and never-ending well of integrity and love. Luke reached out to me during my cancer journey and we picked right back up, albeit older and wiser, but that connection remained in tact," she added.
LUKE PERRY, '90210' AND 'RIVERDALE' STAR, REMEMBERED BY CELEBRITIES AS TV ICON AND 'KIND PERSON'
Doherty was diagnosed with breast cancer in 2015 and is now in remission.
"There is a special kind of love one has for each other when you are experiencing the journey we did on "90210" and of course life in general. Luke and I were working on show ideas for us. We wanted to work with each other again and create something special and meaningful for our fans at this stage in our lives," Doherty continued. "I will miss him every day. Every minute. Every second."
Spelling, 45, who was also an actor on "90210" told People she's "in utter shock and heartbroken."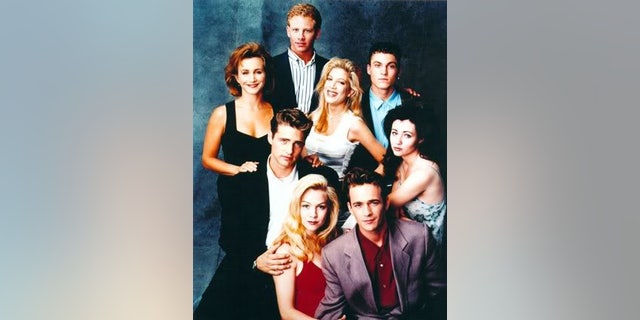 "I'm saddened for his kids whom he adored beyond words. He was so proud of Jack and Sophie," she added. "Luke was one of the kindest and most humble human beings I've ever known. I'm grateful for the years of friendship we had. He truly was family to me, a protector and a brother. I'm so sorry for the loss that everyone is experiencing."
Perry's publicist confirmed to Fox News that when the actor passed he was "surrounded by his children Jack and Sophie, fiancée Wendy Madison Bauer, ex-wife Minnie Sharp, mother Ann Bennett, step-father Steve Bennett, brother Tom Perry, sister Amy Coder, and other close family and friends."