Long-lost Three Stooges movie found in Australia, to be screened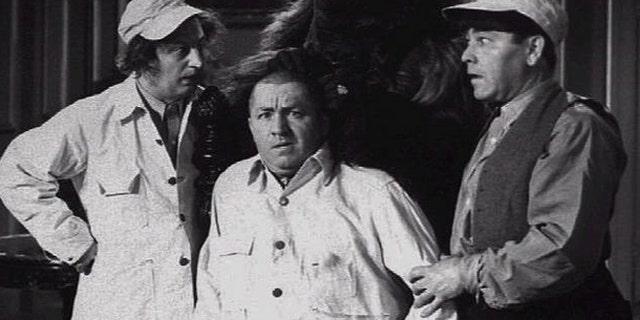 All surviving negative and positive materials for "Hello Pop" — a Three Stooges short in early two-color Technicolor that MGM released in September, 1933 — were believed destroyed in a 1967 vault fire at the Culver City studio (that also claimed Todd Browning's "London After Midnight" and most outtakes from "The Wizard of Oz"). Fifty-five years later, the Vitaphone Project — a New Jersey-based group whose mission has expanded from reuniting long-missing soundtrack discs for early musical shorts with mute prints in archives to worldwide searches for missing features and shorts from the post-Vitaphone era — was contacted by an Australian film collector asking if "Hello Pop!" was a lost film. Indeed, it's the only short or feature with the prolific Stooges not known to exist in any form.
Click here for more from The New York Post.
The Vitaphone group's Ron Hutchinson will introduce the film on Monday at Film Forum in Manhattan as part of a program called "Lost… Now Found."
Directed by Jack Cummings (who later headed a unit producing musicals at MGM) and featuring songs by Irving Berlin with incidental music by Dimitri Tiomkin, the backstage musical "Hello Pop" features the Stooges' then employer, Ted Healey (who they split with the following year when the Stooges began their long affiliation wth Columbia Pictures), sometimes foil Bonny Bedell, and, as you can see from this still, Edward Brophy — as well as Henry Armetta, singer-dancers Vivian and Rosetta Duncan, as well as the Albertina Rasch dancers (including Ann Dvorak).
"It's a lesson to never give up hope on supposedly lost films," says Ned Price of Warner Bros., who has worked with the Vitaphone Project on a number of restorations. "The collector who held 'Hello Pop" didn't even know it was a lost film because he doesn't have access to the Internet."