Lindsay Lohan's comeback vehicles prompt unsettling question: "Which looks worse?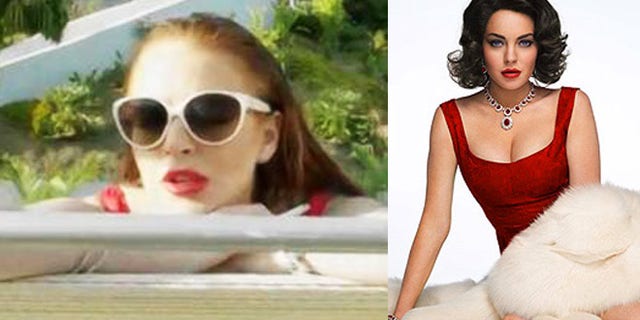 Lindsay Lohan hit headlines this week for reasons other than her out of control personal life.
A teaser trailer for her comeback film "The Canyons" was released, prompting many to wonder if the whole thing was supposed to look cheap and cheesy (it does), or if it was just plain bad.
Lohan stars alongside porn star James Deen, and the trailer appears to be cut in a style (we think) is supposed to mimic a Grindhouse style and pay homage to the thrillers of the 1970's, with macabre messages like "Where the sex is as cheap as the budget… and the only way out is DEATH!"
"It's difficult when you've grown up as a kid actor you star in comedies, adventure films, romantic comedies. It is hard to make that transition (from child to adult)," Bruce Nash from Nash Information Services, which analyzes past and future performance of movies, told FOX411's Pop Tarts column. "Clearly this is much more of an independent production than in the past, whether or not it does gangbusters business is not so much the question as will this be picked up by a distributor, and will it have some shelf life? It is hard to say."
"The Canyons," a Bret Easton Ellis-Paul Schrader project, is being billed as a contemporary L.A. noir film which explores "the dangers of sexual obsession and ambition." It was funded through Kickstarter donations, an online funding platform for creative projects.
Slashfilm.com noted that "the music and editing might be the most appealing thing about the footage"; TheWrap.com pondered on whether it was "supposed to be cheesy, right?"; and DailyCaller.com referred to it as "a midsize-budget porn movie" which "touts group sex situations and the promise of bloody violence."
Another troubling question, if you are Lindsay Lohan, was also raised: What looks worse? "The Canyons" or Lohan's other "comeback" film "Liz & Dick?"
The recently released trailer for the forthcoming Lifetime biopic promises to be "the biggest thing on television this year." A behind-the-scenes clip of the film has also hit the airwaves, offering snippets of Lohan dolled up like Taylor alongside co-star Grant Bowler (who plays Richard Burton) along with insights about their characters and the filming process. The words "Lindsay is back" also flash across the screen.
Only time will tell if that rings true.
"In terms of budget the 'Liz & Dick' film looks much better quality. Better directed and better shot," remarked Damon R. Jones from talent agency Actors in Action. "Surely the Elizabeth Taylor film is a really good opportunity… I think the other one; there are different areas of a population that you cater to and that's just another demographic to me, that would enjoy that film."
According to a rep from Acclaim Talent Agency, the Taylor/Burton-centered television film "could be a redemption piece for her" given the "quality storytelling" the "uncanny resemblance" between Lohan and the late Taylor.
And others argue that a comeback is a comeback, whether it looks polished or not. Lohan was hired, and the projects completed.
"The benchmark for success is different for Lindsay Lohan. It's not about success or failure of the project. It's about her ability to show up to work and do a good job and perform, it is whether companies can depend on her," said veteran publicist, Glenn Selig. "Her acting ability has never been an issue, it's whether she could keep her personal life together. Great reviews are not what matters most for her; though that would have been a nice bonus."
Danielle Jones-Wesley contributed to this report.