Legendary stuntwoman Kitty O'Neil dead at 72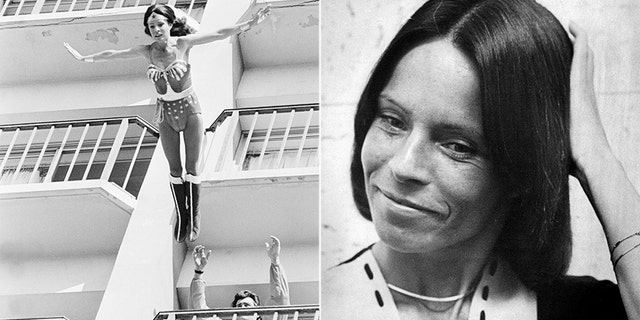 Legendary stuntwoman Kitty O'Neil died Friday in South Dakota at the age of 72, according to multiple reports.
O'Neil was best-known for her work as Lynda Carter's stunt double on "Wonder Woman." She also worked hit movies such as "The Blues Brothers" and "Smokey and the Bandit II."
The stuntwoman lost her hearing when she was 5 months old after she contracted measles and smallpox, according to The Hollywood Reporter. She told People in 1977 she learned to read lips.
"My mother pushed me to read lips but she didn't push me in sports — I did that myself," she said. "Because I was deaf, I had a very positive mental attitude. You have to show people you can do anything."
O'Neil performed a number of stunts, including the time she plunged headfirst from a hotel to an airbag near the pool.
"If I hadn't hit the center of the bag, I probably would have been killed," she told The Washington Post in 1979.
PRINCESS DIANA'S NAUGHTY SENSE OF HUMOR REVEALED IN BIRTHDAY CARD SHE SENT TO HER ACCOUNTANT
She made history when she set the land-speed record for women drivers in 1976. She still holds that record, the BBC reported.
O'Neil was so popular that she got her own Barbie doll and a television movie about her life: "Silent Victory: The Kitty O'Neil Story" in 1979. "West Wing" star Stockard Channing portrayed her in the film. In 1982 she retired from stunt work.
O'Neil died at Eureka Community Hospital in South Dakota of pneumonia, according to The Hollywood Reporter.