Leah Remini on Scientology: 'Everything the Church taught me was a lie'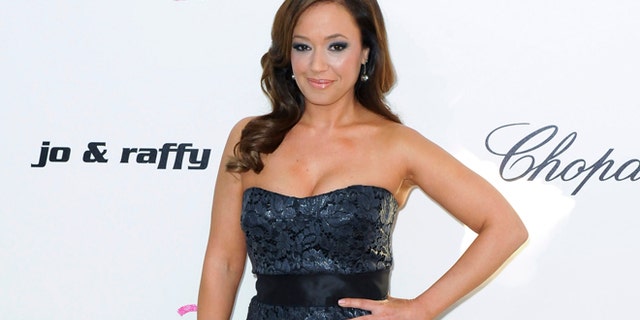 For Leah Remini, leaving the Church of Scientology wasn't an easy decision to make, but she says it was something she had to do for her 9-year-old daughter, Sofia.
Much to the Church of Scientology's dismay, Remini opened up to Buzzfeed about her decision to ditch the Church, and how her life has changed since. The Church was quick to issue a statement bashing the actress, claiming the interview with Buzzfeed was all just a publicity stunt.
"[Sofia] was getting to the age where the acclimation into the Church would have to start," Remini explained, revealing that the Church begins questioning children in a sort of audit process during at that age.
The "King of Queens" star recalled her own experiences growing up in the Church of Scientology and began to question whether or not she wanted her daughter to have the same experiences.
"I started thinking of my own childhood and how I grew up resenting my mother because she was never home," Remini told Buzzfeed. "It's funny; somehow my father, the guy who left his kids and never paid child support, was excluded from my resentment and I grew up resenting my mother for not being home to make food, like all my friends' moms were. But my mom thought she was doing something good; she thought she was helping the planet. That's what the Church tells you."
Remini said that practice—of frequently being at the Church instead of home with her family—was tough for her to swallow.
"In my house, it's family first — but I was spending most of my time at the Church," she said. "So, I was saying 'family first,' but I wasn't showing that. I didn't like the message that sent my daughter."
So she tried to fix things within the Church, but that didn't exactly go over as planned.
"We had a chance to make a change from within, but they didn't want to," Remini explained. "That showed me they didn't actually care, which went against everything I thought we stood for... They didn't care about doing the right thing. That showed me everything the Church taught me was a lie."
So she left. And there were major repercussions. Remini said many of her prominent Scientology buddies—like Kirstie Alley—turned their backs on her. But her mother stuck by her side.
"The fact my mother stood by me after all her years in the Church totally took away any resentment I may have been harboring," Remini said. "When it mattered the most, my mother was there for me. It was the moment that erased all those days she wasn't there. That moment proved to me she was with me. 'Ride or Die.'"
These past months, Remini has found strength by believing in herself, something she said her good friend Jennifer Lopez encourages her to do.
"Jennifer made special rings for all the women in her life that say, 'I Love Me," and I've really come to realize you have to love yourself before you can expect someone else to," Remini said. "You have to learn to believe you deserve love. And I'm getting there. I'm starting to believe it."
The Church of Scientology was quick to fire back at the actress, calling her "self-absorbed" and charging that her comments to Buzzfeed were part of a publicity stunt to satisfy her "insatiable craving for attention."
In a statement sent to FOX411, a rep for the Church of Scientology stated that Remini was "on the verge of being expelled for her ethical lapses."
"Ms. Remini was not attending Church services for years. In fact, she was upset because no one in the Church was calling her or her family, going so far as to drag her daughter into the Church to insist upon being given special treatment... We are saddened that Ms. Remini now feels compelled to attack her former faith."