Laurie Hernandez recalls painful injuries while training for the Olympics: 'I was basically out the whole year'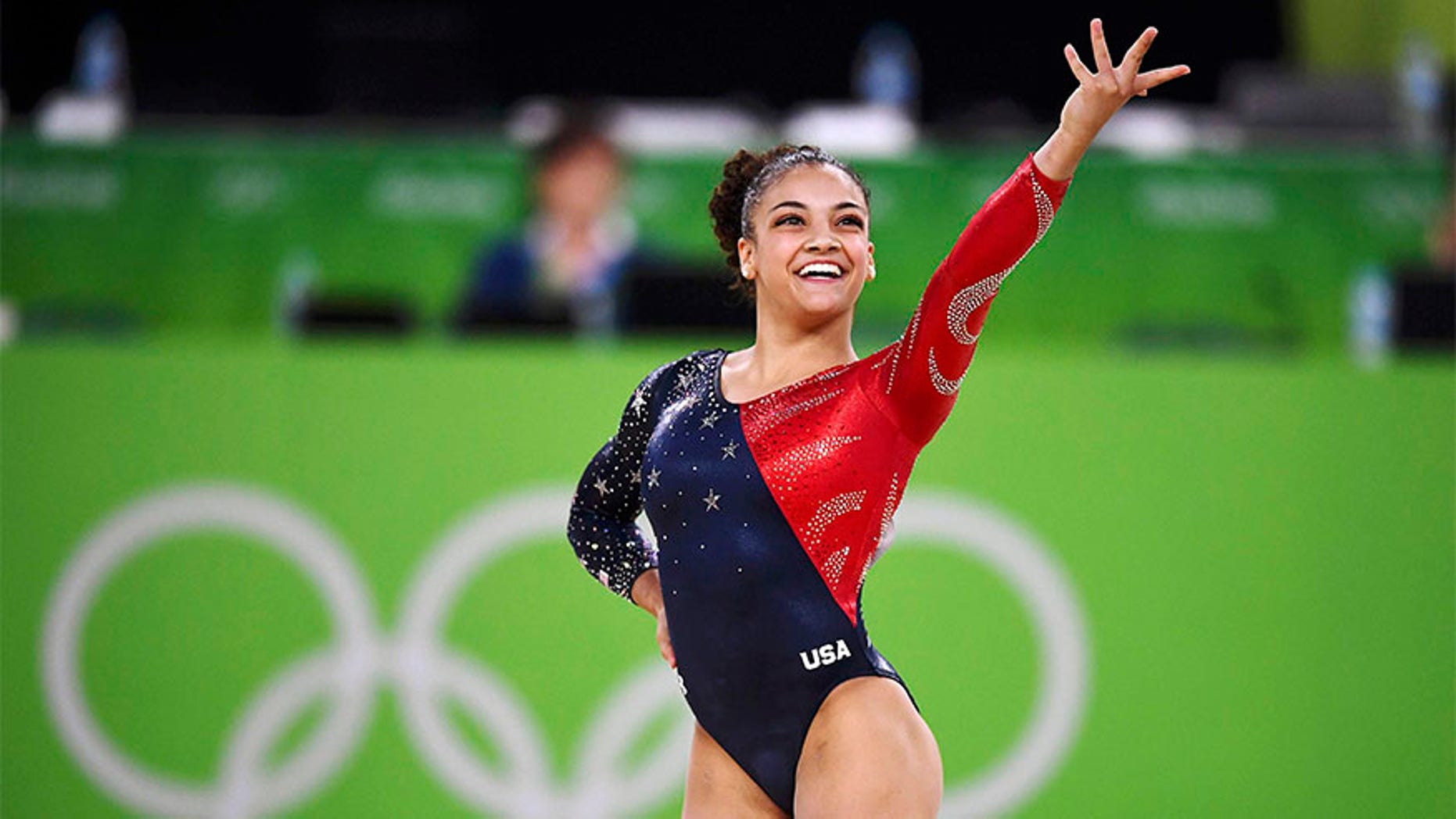 At age 17, Laurie Hernandez is already a celebrated Olympic gold medalist, but there were some pitfalls along the way before reaching the top.
The star gymnast impressed judges with her gravity-defying leaps and easily earned the nickname "the human emoji" due to her mega-watt smile and headline-stirring wink. But for Hernandez, training to become a pro wasn't always pain-free. Hernandez spoke to Fox News about overcoming injuries, how she really feels about being a role model, and whether she stays in touch with the Final Five:
Fox News: You were one of the youngest U.S. Olympians in Rio. Looking back, what was it about gymnastics that made you pursue it?
Laurie Hernandez: At 5, I was just sitting at home one day and the TV was on. I noticed there were two gymnasts that were on the balance beam. I just looked at them and saw how graceful they were. And I didn't even do gymnastics at the time. I remember calling my mom and pointing to the screen. I told her, 'I want to be just like them.' She said, 'OK!' and put me in. I think that was the first time I was really drawn to gymnastics.
Fox News: What was it like training for something as huge as the Olympics?
Hernandez: It was definitely difficult. There were a lot of ups and downs, which is normal for that to happen. But definitely lots of ups and downs. But that's where my family comes in and they really had my back. There were a lot of hours in the gym. There was a lot of pushing through routines that maybe you don't feel like pushing through. But it was definitely worth it. It was around six hours a day, six days a week.
Fox News: What was the biggest challenge that you faced?
Hernandez: The biggest challenge was definitely injuries. The year of 2014 was probably not really my year. In January I slipped and I actually fractured my wrist. Then in June of 2014, I tore my ligament and I had to get surgery. I also dislocated my knee.
I was basically out the whole year. But my parents, they really encouraged me and went, 'Oh, we still believe in you and a comeback.' And 2015 was that. I'm good now, I think. My body feels good, my brain feels good. I taking a little break from gymnastics, but I'll be back soon.
Fox News: You recently teamed up with the American Egg Board to launch the "You're Incredible Because..." campaign, which highlights the importance of healthy eating habits while showcasing the talents of children across the country. Did nutrition play a crucial role in training?
Hernandez: Nutrition was really one of the things that pushed me through to get to the Olympics. You know, I had to make sure I was fueling my body with all the right things.
Fox News: But what's your biggest guilty pleasure?
Hernandez: I'm a sucker for cookies. If they're warm and soft, that's it. I'm won over.
Fox News: Many young girls consider you to be a role model. How do you feel about the title?
Hernandez: I think it's a really big responsibility. I mean, now I have a platform that I get to speak up on and I think it's really important for girls and boys to really know that it's OK to be kind to each other and it's OK to be confident when you walk outside to start your day. I think it's definitely a big responsibility.
Fox News: Where does your confidence come from?
Hernandez: I think it comes from my family, honestly. I don't think I would be molded into who I am today without my parents. Ever since I was a little kid I had such a big dream. Sometimes I think other people couldn't think it was reachable, but not my parents. They're definitely my backbone.
Fox News: After the Olympics in Rio, when you finally got home, when did you first realized your life was never going to be the same again?
Hernandez: I think I noticed it as soon as I started traveling. I mean, I had started traveling and doing different events a little bit after the Olympics and things haven't really slowed down since then. So when I first started I said, 'OK, a lot of things are going to change.'
Fox News: How did you and your family cope with all the sudden attention you were receiving?
Hernandez: I think they're the best with that because when I'm home, nothing changes. I'm still doing dishes, I'm still taking the trash out. There's just a sense of being normal, and I'm not treated any differently when I'm home. So it's definitely just being grounded when I'm home. But thank goodness for FaceTime, too! Because whenever I travel a lot, I get to talk to them still.
Fox News: Women were clearly the big winners at the Olympics. 
Hernandez: I just think every athlete, boy or girl, works really hard to make it, so we have to make sure we look at that. But it's great to see what women are doing right now, especially in the Olympics. I think it definitely shows little girls that it's OK to be athletic, it's OK to be strong and go after the sport that you want to do.
Fox News: How has your relationship with the Final Five changed since the Olympics?
Hernandez: We don't see each other as much. Before the Olympics, we would see each other at training camps, which was pretty often. But now we're scattered and all over the place. We don't see each other as much, but we have a group chat! That's one way to stay in touch.
Fox News: We all know you're a pro at gymnastics. However, what's another talent or trick that you also happen to be really good at?
Hernandez: I like dancing! I think dancing is a lot of fun. I don't know! I really look at what I'm good at. I just look at the things that I really like to do.
Fox News: What's next for you?
Hernandez: Right now, I'm looking into finishing my last year of high school. That would be pretty exciting. I'm looking into college way in the future and hopefully 2020.