Latin Grammys gets political as Will Smith returns to stage in epic performance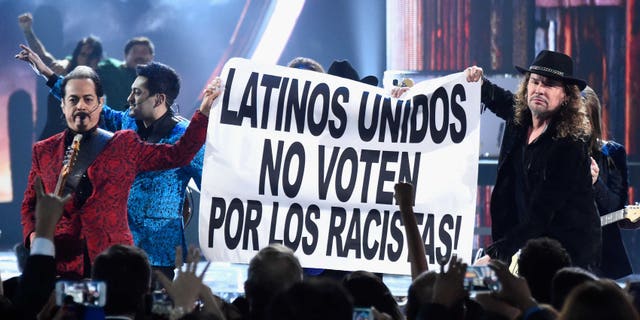 Las Vegas – Latin music's biggest night quickly turned political.
Mexican rock band Maná, which has never shied away from controversial topics, took the stage Thursday night in Las Vegas to denounce the harsh tone some presidential candidates have taken when speaking about undocumented immigrants.
"Latinos united. Don't vote for racists," the band said in a Spanish-language poster after singing "Somos más Americanos" ("We are more American") with the norteño band Los Tigres del Norte.
When they received the award for best pop/rock album for "Cama incendiada" ("Burning Bed"), Maná's lead singer Fher Olvera urged Hispanics to exert their voting power and go out and vote.
"This is how we can use our power," he said. "We have to exercise our right to vote, and vote for those who will give more quality to Latinos, to the candidates. Use your strength, Latinos!"
Speaking to reporters backstage, the band said they are not pushing for any specific candidate in the upcoming presidential elections. Instead, they wanted to implore Hispanics, one of the fastest-growing segments of the electorate, to flex their voting muscle to elect a president in favor of immigration reform.
"We think it's important (to use) any platform be it the Grammys, be it a concert, be it with the press, it's important to speak out," said drummer Alex González. "We think it's a perfect moment. At the end of the day we are musicians, but we are human, beings also. We are worried and concerned about many things going on in the world."
While the show's political tilt lit up Twitter, it was the legendary Rita Moreno that turned up the heat when she got a little frisky onstage.
Presenting the award for best urban album to fellow Puerto Rican Tego Calderón, the 83-year-old showed that age is just a number.
"I listen to reggaeton all the time – when I wake up, when I am doing yoga – there is nothing like meditating and when you have the "perreando" inside," she said before taking off her shawl and whipping it around.
The singer and actress, who just released her very first Spanish-language album, gushed about the awards show.
"If people need reminding, it reminds this country what a rich culture we bring to this country," she told FNL. "We bring a lot to this country because of our culture … We really spread like a really ink block."
The night's biggest winner was Mexican singer Natalia Lafourcade, who took the first award – record of the year – along with song of the year with collaborator Leonel García, best alternative music album and best alternative song.
"I'm very emotional," she said as she received her award. "This has taught me that whatever hurts us can be transformed into beautiful moments, shared with friends."
Dominican singer Juan Luis Guerra took home Album of the Year and dedicated it to his country. He also won best tropical song for "Tus besos" ("Your Kisses").
The party kept going with performances by Guerra, Yandel, Prince Royce, Ricky Martin, Pablo Alborán, Nicky Jam, and Maná with Los Tigeres del Norte. Rapper Wisin, Lafourcade, and Alejandro Sanz also took the stage.
Probably one of the most anticipated performances was that of Colombian band Bomba Estéreo and Will Smith, his first time back on a musical stage since 2005.
Brazilian crooner Roberto Carlos, who was named the 2015 Latin Academy Person of the Year, performed a medley of some of his greatest hits that had the audience on their feet.
Like us on Facebook
Follow us on Twitter & Instagram