Lady Gaga's "Eggspress Yourself": Did She Ruin Her Reputation by Copying Madonna?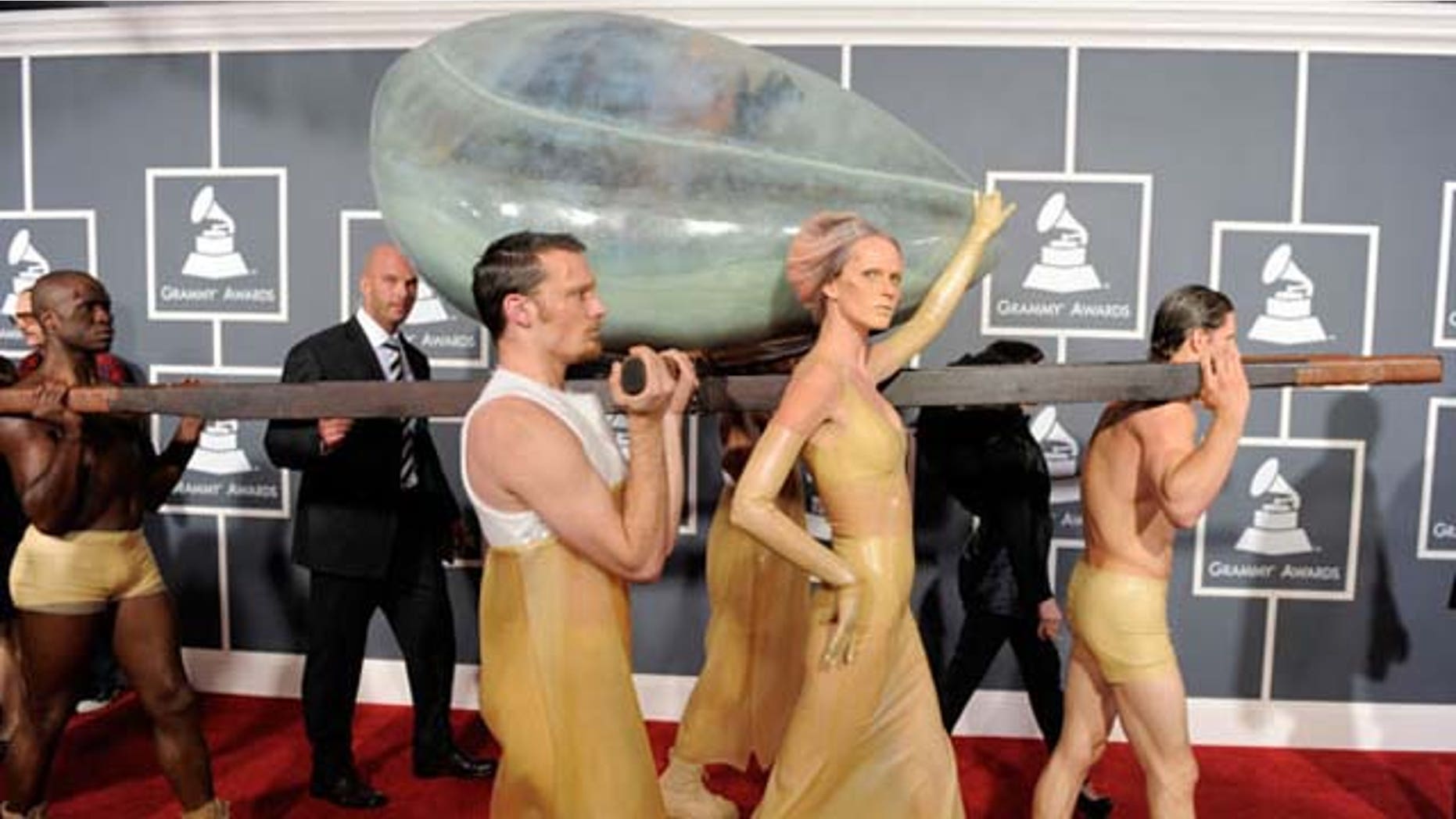 Pop princess Lady Gaga ignited quite a stir on the 53rd Annual Grammys red carpet on Sunday evening, arriving in a typically elaborate fashion -- this time, inside an opaque, greenish-white egg carried by an entourage of half-naked men.
However, has the 24-year-old "Fame Monster" become just a little too "eggo-centric"?
Does she think it is always just about her? Given the grandiose nature of her entrance, security guards were forced to dash through clearing the red carpet and several interviews involving other high-profile stars halted as all eyes were drawn to the commotion.
"Gaga's womb/egg/whatever entrance was attention-getting on one level and, I guess, in line with the kind of stunt-y thing we've come to expect from her, but it almost also seems like she's trying a little hard to be 'shocking,'" pop culture expert Scott Huver told FOX411's Pop Tarts. "But the shock value wasn't that impressive."
However, other experts perceived Gaga's entrance and aesthetics as genius. After all, we're discussing her right now, aren't we?
"You didn't even have to see her or what she wearing because she stirred such chaos and mystery, it was genius," said AP fashion expert Natalie Rotman. "She deserved the attention (on the carpet.) Let's face it; she is the biggest star here in 2011."
Gaga's egg soon lit up the darkened Nokia Theater stage and she "hatched" the first single off her highly-anticipated new album, "Born This Way." Exposing her bare midriff in a flesh-colored latex bra, pasties and skirt, complete with black lipstick and a long side ponytail, Gaga danced suggestively around the stage, and part-way through played an organ which was surrounded by mannequin heads.
Nonetheless, her egg/womb wasn't the only thing that lit up during her performance – the Twitterverse was also instantly alive with references to "Eggspress Yourself," prompting many to question whether the "controversial" songstress really had crossed the line this time and sacrificed all artistic integrity by blatantly copying music queen Madonna's 1989 classic, "Material Girl."
"As soon as it hit the airwaves, 'Born This Way' got some immediate criticism for the song's musical similarity to Madonna's 'Express Yourself' with a little 'Vogue' thrown in, and her Grammy performance seemed to also tread over ground that the 'Material Girl' has already covered," Huver said. "If the song and performance were intended as an overt and intentional homage to Madonna, it might have gone over better, but instead it came off like Gaga may already be running low on original ideas.
Furthermore, Gaga credited Whitney Houston – not Madonna – as her source of inspiration for the song.
"I want to say thank you to Whitney Houston," she told the audience while accepting the Grammy for Best Pop Vocal Album (donning a tight black outfit, black sunglasses and long ponytail, circa Madonna "Material Girl" perhaps?) "When I wrote 'Born This Way' I imagined you were singing it because I wasn't secure enough to see myself as a superstar."
And although Madonna has yet to comment on Gaga's song, could we expect some courthouse action in the near future?
"If one can prove access and similarities too great to be happenstance, one may have a good claim for copyright infringement," Los Angeles-based attorney, Ed Lasman said.
However, Huver doubts Madge will bother with the fanfare.
"I don't think Madonna would go so far to get litigious, but we might expect some catty comebacks in the press fairly soon," he added.
This isn't the first time Gaga has gone all-out Queen of Pop style. The young star raised eyebrows with the release of her "Alejandro" music video last year which, given its use of sharp black-and-white photography, Catholic symbols and bondage, was deemed an amalgamation of Madonna's "Vogue," "Like A Virgin," and "Like a Prayer."
So is she really that original after all?