Katie Couric to interview Manti Te'o: What's the biggest televised celeb interview ever?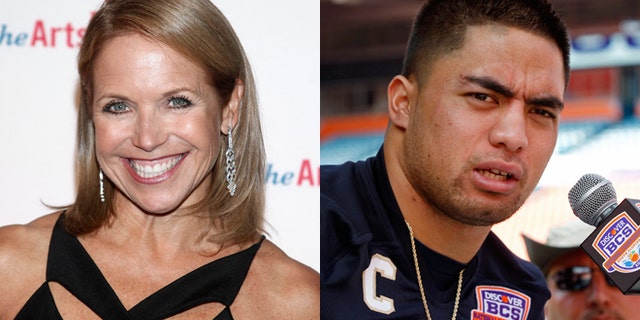 Score one for Katie Couric in the fight for celebrity interview "gets."
The perky talk-show host will interview Notre Dame linebacker Manti Te'o in his first on-camera TV interview since the mysterious story of his fake dead girlfriend began to unravel, Couric tweeted.
On Friday, Te'o told ESPN that he was not part of an elaborate hoax, but admitted that he "tailored" his stories so people would think he had met Lennay Kekua, the woman he believed to be his girlfriend but had never met, "before she passed away."
SODAHEAD SLIDESHOW: See the biggest televised celebrity interviews.
"I wasn't faking it. I wasn't part of this," he said, adding that he had received an apology from alleged hoax mastermind Ronaiah Tuiasosopo, a 22-year-old who lives in California.
Meanwhile, a source told USA TODAY Sports that Te'o's mother had spoken with the person purporting to be Kekua about converting to Mormonism and discussed the Bible with her over text message.
PHOTOS: See the latest celebrity pictures to hit the Internet.
Te'o and his parents will appear on Couric's syndicated talk show on Thursday. But will the interview be more shocking than Diane Sawyer's Whitney Houston interview? Or Oprah's recent chat with Lance Armstrong? From Katie-Manti to Martin Bashir-Michael Jackson, let us know: Who landed the biggest celeb interview ever?