Katie Couric joins Yahoo as global anchor, to host interview series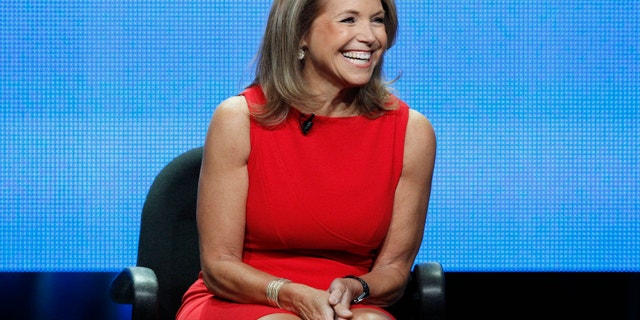 Katie Couric is shifting focus to even smaller screens: Yahoo officially announced her hire as "global anchor," making the Internet the primary platform for the talkshow hostess and journalist after 34 years on TV.
Couric, 56, will help develop Yahoo News' global coverage starting in early 2014 and is set to host a monthly interview series with newsmakers for Yahoo. Her role at the company, however, is still a work in progress.
"It's very exciting to be a part of a leading company at the intersection of content and technology," Couric said in a statement. "I have great admiration for Marissa Mayer and her team and their commitment to bringing news, entertainment and information to the Yahoo community across multiple platforms. Joining Yahoo offers a tremendous opportunity to reach people all around the world in the way that they're using and consuming media today."
Word of her move to Yahoo first leaked late last week. CEO Marissa Mayer, who is said to have personally courted Couric, said in a statement that "Katie's depth of experience, her intellectual curiosity, and her charisma make her the perfect choice to anchor Yahoo News and the whole Yahoo Network."
"Her unmatched energy, savvy and versatility enables her to connect with audiences across the globe," Mayer continued. "News is a definitive daily habit for our users — and Katie will work with our talented editorial team to pioneer a new chapter of digital journalism."
Couric spent 15 years at NBC's "Today" and anchored "CBS Evening News" from 2006 to 2011. In moving to Yahoo, the TV star has negotiated an early exit from her deal with ABC News where she has been a "special correspondent" as part of her pact with Disney, which distributes her daytime talkshow "Katie." According to Disney-ABC Domestic Television, a decision on whether to renew the daily syndie for a third season is pending but industry sources expect the show to be canceled.
SEE ALSO: Katie Couric's Bad Bet: Leaving ABC News for Yahoo
For Yahoo, Couric's brand of likeable chattiness and her TV bona fides could invigorate the Internet company's video business, which has declined over the past year.
Yahoo already features Couric on its website: As part of the distribution partnership with ABC News, Yahoo runs weekly clips from her talkshow under the "Katie's Take" banner. As anchor of "CBS Evening News," she also had an online-only interview web series dubbed "@katiecouric."
Mayer has recently recruited other high-profile content talent including tech journalist David Pogue and New York Times editor Megan Liberman.
Couric's move to the web can be viewed as a step down for her in the media food chain — and, at the same time, as a reflection of the growing appetite among Internet players like Yahoo to secure exclusive high-value programming. But it remains to be seen how well Couric will play online, given that her appeal skews to older, femme viewers.
Other TV journalists who have jumped to the Internet include former CNN star Larry King, who hosts weekly talkshows distributed by Ora TV, and conservative firebrand Glenn Beck, who sells subscriptions to TheBlaze TV online programming for $9.95 per month.
Click here for more from Variety.