Kathy Griffin talks life after Trump photo scandal: 'I didn't commit a crime'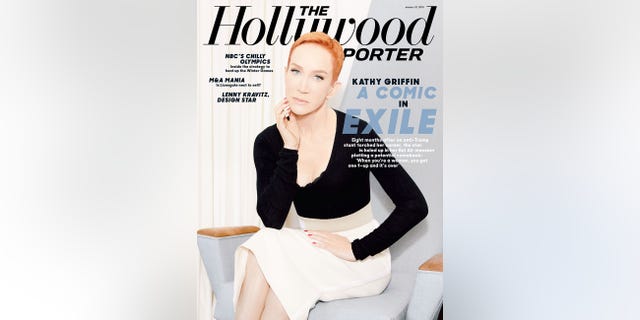 Kathy Griffin is determined to get the last laugh.
The Hollywood Reporter revealed Wednesday the 57-year-old comedian is gearing up to bounce back after a tumultuous year.
Back in May 2017, Griffin faced public backlash after she posed holding a severed, bloodied Trump mask. After the gory photo went viral, Griffin apologized on Twitter, insisting she "went way too far."
It didn't take long for the "My Life on the D-list" star to nearly lose her career.
Despite Griffin begging for forgiveness, Squatty Potty suspended their ad campaign with the fallen star and CNN later revealed the network was ending Griffin's hosting duties for its New Year's Eve program alongside anchor and friend Anderson Cooper.
And while Griffin was holed up in her $10.5 million Bel Air mansion, she said death threats poured in.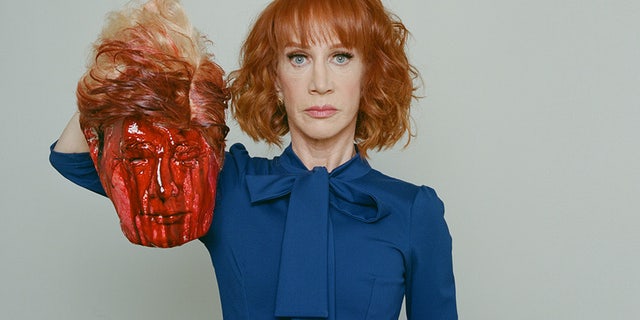 She told The Hollywood Reporter the images weren't that serious.
"When you're in between gigs and trying to stay on the map, you have to think of ways to stay in the spotlight," explained Griffin.
After the snap was taken, Griffin told photographer Tyler Shields to "get it out there in whatever way the kids are getting things these days," in hopes of boosting publicity for her 50-date U.S. tour that already had gotten underway.
"I didn't commit a crime," Griffin insisted. "I didn't rape anybody. I didn't assault anybody. I didn't get a DUI. I mean, my God, there are celebrities that f---ing kill people."
Griffin participated in a press conference on June 1, 2017 with attorney Lisa Bloom and the move backfired.
"It turned out she wanted me to do an infomercial for her," claimed Griffin. "When I walked into that room, I had no idea there was going to be a banner above my head that said LisaBloom.com. I didn't know she was going to Velcro herself to my shoulder so she couldn't be cut out of any shot. I didn't know she was going to hand me a mug that said LisaBloom.com. I got all of that in under three seconds."
The Secret Service investigated whether Griffin was a possible threat to the president. When questioned by two investigators, Griffin said she was asked if she kept any weapons at home.
"I said, 'No, Oh, well, I have a sword. It's huge,'" she explained. "And my lawyers looked at me, like, 'What are you doing?' The agents got very interested and were like, 'What is it for?' And I was like, 'It's not for anything. I got it when I hosted the Gay Porn Awards.' And I have to say, the guy smirked. He was like, 'Tell me more about the sword.' I was like, 'Well, it's big. You know the gays.' And then it was like, 'No more sword-asking questions.'"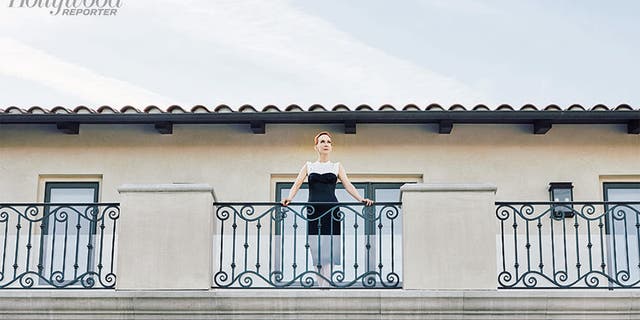 But despite the scandal, Griffin found work overseas. The magazine noted she launched the "Laugh Your Head Off" comedy tour in October 2017.
She said the show was a big success.
"In Iceland, at one point I asked, 'How do you guys even know me?' And people just started yelling out, 'The picture!'" she recalled.
And while she soon learned she was replaced by talk show host Andy Cohen to join Cooper for CNN's New Year's Eve special, Griffin said she spent the holiday at home "with my handsome boyfriend, making love."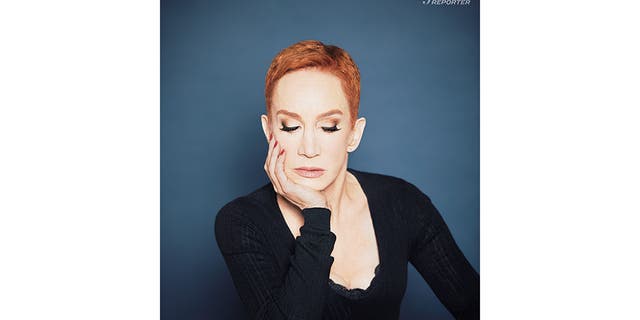 These days, Griffin is plotting on her American comeback and doesn't seem to be fazed by what the future may hold for her.
"The minute I do something that makes money, they will all love me again," she concluded. "When I'm dead, I'll be a legend. But not now."
Photographer Shields previously told Fox News Griffin was hoping to create a bold message with her infamous photo.
"Kathy and I are friends and we worked together before, so when we started doing this shoot, she said, 'I'd love to do something political. I'd love to make a statement," he explained. "We kind of figured out what would be the best image to make out of that."
Shields added the image was meant to serve as art and he was aware that it would make some viewers uncomfortable.
"That's what art is meant to do," he said. "Some people look at it and they love it. Some people look at it and they hate it… I understand there are going to be people that hate this. It's a very touchy subject… but this is not real. We didn't kill anybody nor do I feel anybody should be killed. It's no different from a movie. It just happens to be a still image."