Kathy Griffin supports Samantha Bee's 'feckless c---t' comment, slams Sarah Sanders for weighing in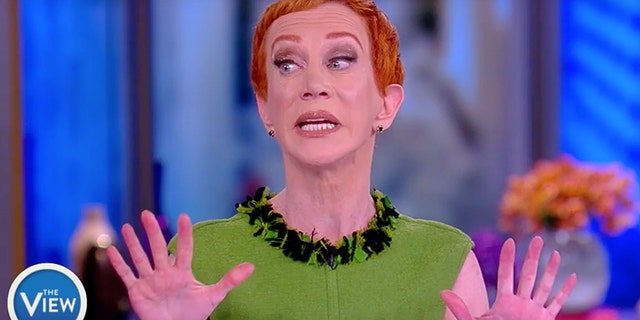 NEWYou can now listen to Fox News articles!
Attention hound Kathy Griffin spent Thursday expressing her support for "Full Frontal" host Samantha Bee's remark that First Daughter Ivanka Trump is a "feckless c---t," while slamming Press Secretary Sarah Sanders, TBS and a variety of reporters in the process.
Bee apologized Thursday after she used an extreme vulgarity to slam Ivanka Trump in her monologue on Wednesday over a photograph the first daughter shared on social media, calling her a "feckless c---."
Griffin had previously urged Bee not to apologize, but defended the TBS star for doing so anyway.
"Please do not be hard on @iamsambee for apologizing. While I was hoping she wouldn't, I know first hand what it's like being put through the Trump wood chipper..what she's going through right now is crazy. All for a bleeped word. Comics held to higher standards than the president," Griffin wrote.
Shortly after Bee apologized, TBS issued a statement of its own -- and Griffin also chimed in.
"Spineless. Support your talent TBS. Instead, you made her apologize," she wrote.
Prior to the apology, Sanders called Bee's comment about the First Daughter "vile and vicious," while also noting a clear double standard.
"The collective silence by the left and its media allies is appalling. Her disgusting comments and show are not fit for broadcast, and executives at Time Warner and TBS must demonstrate that such explicit profanity about female members of this administration will not be condoned on its network," Sanders told Fox News.
Griffin's career was derailed last year when she infamously held up a fake severed head of President Trump, displaying it the way ISIS members often present decapitated heads of their victims. Griffin initially apologized for the photo but later retracted the apology because, according to her, the reaction had gotten so out of hand. She took to Twitter on Wednesday to explain her decision in a lengthy, rambling thread that turned the one-year anniversary of her poor career into a social media pity party.
When Griffin caught wind of Sanders' reaction to Bee's comments, she blasted the press secretary for "deciding what's fit for broadcast or not," while posting a link to her lengthy thread from the day before. "This is exactly what I was talking about in the thread I posted last night," Griffin wrote.
When a reporter pointed out that the controversy isn't about whether or not Bee "can" say the vulgar comment, rather if she "should," Griffin called him a "hack" and instructed him to "shut the F--- up." In follow-up tweets, Griffin called CNN's Chris Cillizza a "sad, pathetic man," retweeted a variety of compliments and invoked the First Amendment.
"My dog's obedience school classmates could explain to you that when the White House Press Secretary starts making statements that including a demand for a network to cancel a show that we are crossing over into 1st amendment territory. That you don't get that depresses me," she wrote.
Griffin also accused the "Trump outrage machine" of revving up at the "perfect time," with a link to a story from The New York Times about the Russia investigation and reminded followers that the First Daughter dared to attend an event on the night that "travel ban chaos was happening."