Kathy Bates to play ghost of Charlie Sheen's character on 'Two and a Half Men'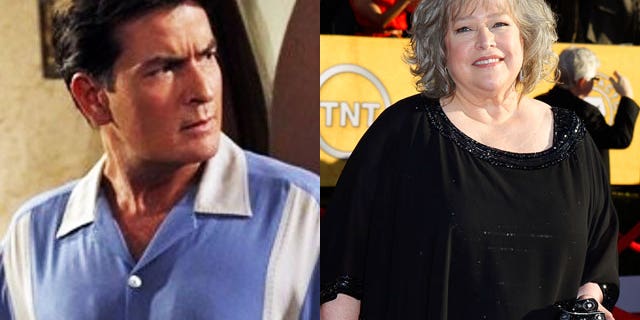 Charlie Harper is back! Sort of.
CBS announced Monday that Oscar winner Kathy Bates will guest-star on the April 30 episode of Two and a Half Men as... the ghost of Charlie Harper. The character, previously played by Charlie Sheen before he was fired from the sitcom last year, was killed off-screen when he was hit by a train in Paris. His funeral was held in the season premiere of the ninth season.
Two and a Half Men bosses, Ashton Kutcher vague about returning next season
His ghost enters the picture when Alan (Jon Cryer) suffers a minor heart attack and ends up in the hospital. His late brother's ghost (Bates) will pay him a visit.
Bates currently stars as Harriet Korn on NBC's drama Harry's Law, which airs Sundays at 8/7c. Two and a Half Men airs Mondays at 9/8c on CBS.
What do you think of Bates' unusual casting?
View original Kathy Bates to Play Gender-Bending Role on Two and a Half Men at TVGuide.com
Related Articles on TVGuide.com
Other Links From TVGuide.com