Kardashian lawsuit saying The Gap tarnished their reputation will be hard to win, experts say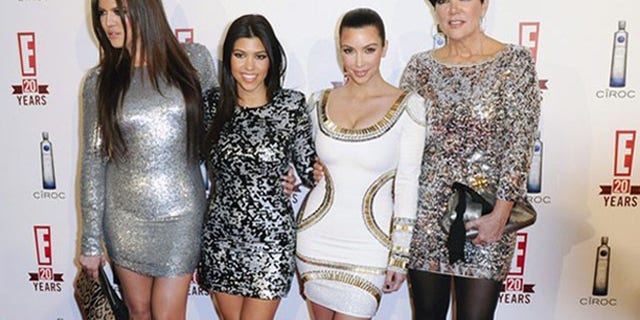 The Kardashians have built their empire on very public, questionable behavior. After rising to national prominence with middle daughter Kim's sex tape, the family has broadcast all of their dirty laundry on several eponymous cable TV reality shows, including expletive-ridden squabbles, drunken brawls, quickie weddings, and quickie divorces.
Can the Kardashians really claim that anyone outside the family could tarnish their reputation?
The Gap doesn't think so.
As part of its defense against a Kardashian lawsuit, the clothing company has hired a lawyer to investigate what the publicity seeking family's rep is really worth.
The Kardashians filed the suit last year after Gap-owned retailer Old Navy used a Kardashian doppelganger -- a raven haired model/singer named Melissa Molinaro -- in one of their ads which the Kardashians' claimed mocked Kim's lifestyle. The family claimed that the ad did $15-$20 million in damage to the Kardashian reputation.
The Gap's lawyer, Louis Petrich, will seek to prove that Kim Kardashian is "libel-proof": a person whose reputation is already so damaged, nothing can hurt them. According to attorney Vikki Ziegler, some "libel-proof" personalities include Mel Gibson, Lindsay Lohan, Charlie Sheen and Paris Hilton.
Petrich may be on to something. Fox411's talks with a handful of defense attorneys and intellectual property experts all yielded the same answer: Kim doesn't have a case.
"I think it is a tenuous claim," explained attorney Alonzo Wickers. "The model didn't even strike me as being obviously a rip off of Kim Kardashian, and more importantly, didn't do anything in the ad that evokes anything I associate with Kim Kardashian."
Several experts also said nothing can hurt the Kardashians' reputation more than they have already hurt themselves.
"Kim Kardashian makes her reputation off of pushing the envelope, playing with the public psyche, and being controversial," explains legal expert Joey Jackson. "She is a publicity craver and seeker, thereby making any publicity is good publicity for her."
"What reputation?" he added. "She doesn't have one."
Jackson says that The Gap can build a strong case that it is impossible to defame Kim Kardashian because she and her family actually seek (on a daily basis) the publicity that would destroy someone like Taylor Swift, an upstanding young star with unassailable morals, explaining that you simply can't destroy a reputation that is built on being notorious, instead of popular or likable.
Steven Levitt calculates celebrity Q Scores, the metric that brands and networks use to determine how they want to use a celebrity in an advertisement or on a show. Levitt tells Fox411 that Kim's reputation with consumers is so low that no actions by outsiders, like the commercial by Old Navy, can bring it any lower.
"If someone has a high Q score, then you have reputation that could conceivably be damaged. Someone like Julia Roberts or Betty White—people whose positive ratings are drastically higher than their negative ratings—have a reputation to protect and they would have a strong lawsuit," Levitt explained. "Kim's ratings are so negative she doesn't have anything to protect."
Levitt broke it down for us.
Kim is recognized by 62 percent of the population. That is high. The average personality is recognized by only 33 percent of the population. Her positive Q score is a 12, while the average is an 18. Her negative Q score which is a whopping 53. The average is a 25.
"We are talking about somebody who has four and a half time more negative sentiment than positive in the eyes of the American population. What kind of reputation is that?" Levitt asked.
Taylor Swift and Carrie Underwood, on the other hand, are the types of celebrities whose reputation could be damaged by scandal, Levitt said. Swift has a positive Q score of 26 and a negative of just 21. Carrie Underwood has a positive Q score of 32 and a negative of just 13.
The Kardashian's camp had no comment on this story. The Gap's lawyer Petrich did not return calls for comment.
While stories continue to swirl that the Kardashian brand is having its troubles, that likely has had more to do with Kim's short-lived marriage to Kris Humphries and a growing level of distrust of the family from fans, not a 45 second Old Navy commercial, experts say.
"The Kardashians' value has gone down by about a third and that damage was not done by an Old Navy ad," explains said Mike Paul of MGP & Associates PR, a New York-based crisis management firm. "The family destroyed Kim's reputation."