Justin Bieber posts selfie from therapy: 'It's cool to have a healthy mind and emotions'
Justin Bieber is proud to prioritize his mental health.
The singer, who's admitted to battling depression, posted a selfie Wednesday from therapy.
"Therapy session," Bieber, 25, wrote. "It's cool to have a healthy mind and emotions."
JUSTIN BIEBER SLAMMED ON SOCIAL MEDIA FOR FAKE PREGNANCY NEWS
Last month, the "Sorry" crooner revealed he was "struggling."
"Just wanted to keep you guys updated a little bit hopefully what I'm going through will resonate with you guys. Been struggling a lot. Just feeling super disconnected and weird," he wrote on Instagram.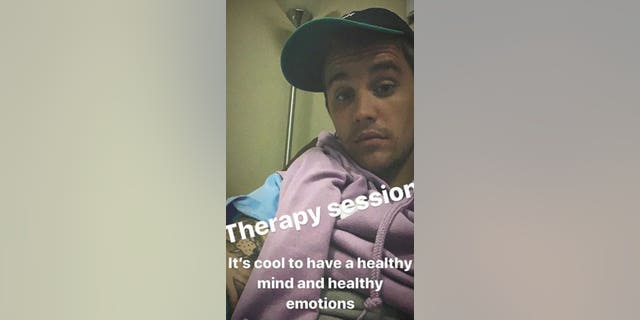 "I always bounce back so I'm not worried just wanted to reach out and ask for your guys to pray for me. God is faithful and ur prayers really work thanks," he wrote. "The most human season I've ever been in facing my stuff head on."
CLICK HERE TO GET THE FOX NEWS APP
Bieber opened up about his past struggles with sex and drug addiction in a Vogue interview in February. The singer told the magazine that he had a "legitimate problem with sex" and abused Xanax for a period of his life before marrying Hailey Baldwin.