Justin Bieber Calls Selena Gomez A Heartbreaker As Couple Reunites For Fourth Of July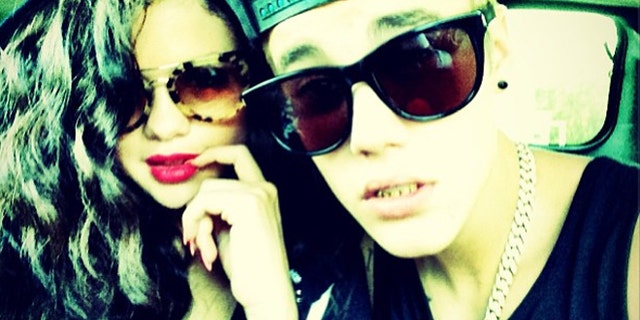 Selena Gomez may have reunited with Justin Bieber but that doesn't mean she'll talk about her famous ex.
Over the weekend photos and videos showed the pair spent the Fourth of July together, however both young stars are staying mum on the status of their relationship.
Thanks to the power of social media, fans were able to connect that the on-again, off-again couple attended the same party to celebrate America's Independence Day.
First, Bieber's partner in crime Lil' Twist posted two separate pictures in which he posed with both the "Boyfriend" singer and Gomez.
In a short 15-second Instagram video posted by Bieber's best friend Alfredo Flores from the same bash, Flores is seen waving a firecracker but quickly cutting to an image of Gomez playfully sticking her tongue out.
As the HollywoodLife.com reported, another Instagram video showed what appeared to be Bieber and Gomez embracing in the background.
One insider who was at the party told US Weekly the couple "arrived holding hands," adding that they were both "in a great mood."
It was not until the following day, Friday, that either Gomez or Bieber posted anything about their surprising reunion themselves.
Bieber sent "Jelena" fans into a frenzy when he called Gomez a "heartbreaker" and posted an Instagram photo in which he is snuggled next to a seductive Gomez.
Sharing the image with the simple tag, "#heartbreaker," in a matter of hours the picture got over 100,000 comments and 600,000 likes.
However, Gomez's friends hardly "like" her relationship with Gomez.
''Selena's friends have stuck by her through thick and thin, but the whole back-and-forth relationship with Bieber is really starting to wear on them," a source told RadarOnline.
''None of her friends really like Justin — or at least, they don't like Selena with Justin. It's just not a healthy relationship.''
Follow us on twitter.com/foxnewslatino
Like us at facebook.com/foxnewslatino