Joe and Nick Jonas double-date with their fiancées Priyanka Chopra and Sophie Turner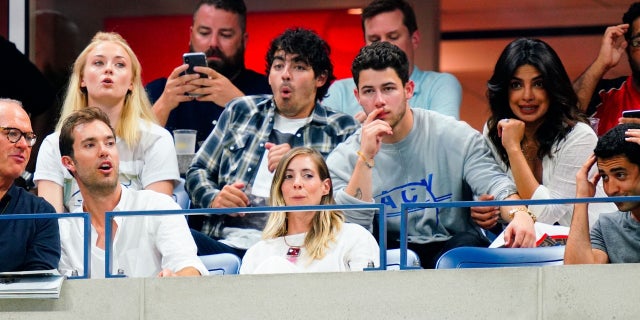 Brothers Nick and Joe Jonas were caught on camera in New York City on Tuesday night enjoying a double date with their fiancées, Sophie Turner and Priyanka Chopra.
The group was seen at the U.S. Open cheering on tennis superstar Serena Williams. Chopra posted a photo of the squad with a caption, reading, "It's a #famjam at the #U.S. Open."
Her fiancé Nick Jonas, 25, also shared a photo of the famous group.
PRIYANKA CHOPRA AND NICK JONAS CONFIRMENGAGEMENT WITH TOUCHING INSTAGRAM POSTS
Chopra, 36, confirmed her engagement to the singer in August. The couple reportedly began dating shortly after Chopra returned from her best friend Meghan Markle's royal wedding in Windsor, England on May 19. The actress and her much younger beau were rumored to have been dating just two months before news broke that Jonas popped the question July.
Joe Jonas, 29, and "Game of Thrones" star Sophie Turner, 22, made their engagement public in October 2017. After Chopra and Jonas announced theirs in July, Turner wrote a touching Instagram post welcoming Chopra into the family.
'GAME OF THRONES' STAR SOPHIE TURNER REVEALS WHY SHE WAS SEEN CRYING WHILE OUT WITH JOE JONAS
"Wow. First I'm blessed with an incredible future brother-in-law, and now such a beautiful, inside and out, future sister-in-law. I'm so excited to welcome you into the family @Priyanka Chopra. I love you both @Nick Jonas," she wrote.