Jessie James Decker's husband Eric announces retirement from NFL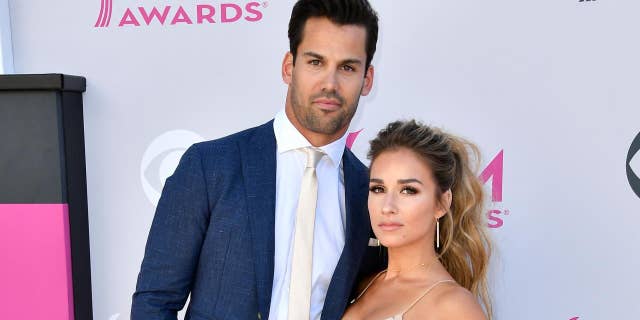 Eric Decker is retiring from the NFL.
The 31-year-old wide receiver announced the news on Instagram on Sunday. Aside from being a professional athlete, Decker stars in the E! reality show "Eric & Jessie: Game On" with his wife, singer Jessie James Decker.
"It has been my childhood dream and my passion to play the game of football," Eric wrote. "I was very fortunate and blessed to have had the opportunity to have those dreams fulfilled and to have played with such extremely talented and hard-working teammates, coaches and staff."
Jessie James Decker Gets Mom Shamed For Holding Wine Glass While Breastfeeding Son
"This has been a passion inside of me since I was a little boy but I know now it is tie to hang my helmet up and start a new chapter in my life," he continued. "I love football and I always will. It will continue to be a part of my life. I'm looking forward to spending more time with my wife and kids."
Eric and 30-year-old Jessie welcomed their third child together, Forrest Bradley Decker, in April. The two are also parents to their 4-year-old daughter Vivianne and 2-year-old son Eric.
Earlier this month, Jessie shared an adorable photo of the family of five on a football field.
"Family is football," she wrote.
ET spoke with Jessie last September, when the country music star commented on her husband's plans to retire. In June 2017, Eric Decker signed a one-year contract with the Tennessee Titans after being released by the New York Jets. He then signed a one-year contract with the New England Patriots earlier this month, though on Sunday, he surprisingly announced he's retiring.
Jessie James Decker Shares Precious Photo of Her 'Chubby Cheeked' Baby Boy
"I honestly never thought that could happen," Jessie, who's been in Nashville on-and-off for 10 years to work on her country music, explained at the time. "That seemed so in the distance, way too good to be true. I remember saying to Eric, 'Well, maybe whenever you're ready to retire, you just got one year left in you, maybe you can just tell your agent to just give 'em [the Titans] a call.' I would be funny with it."
"So, when it actually did happen, I was like, 'What? This is real life? We get to just stay home?'" she recalled. "It was just really exciting. Obviously it was a little sad to leave New Jersey and the New York Jets community. They were really, really good to us and I'll always be grateful for that, but there's nothing like coming home."
She also talked about her close relationship with Eric.
"Whenever we spent some time apart from each other, I truly felt like I couldn't live without him," she noted. "I would just think to myself, 'I cannot live without this man. I cannot go another day without him in my life.' He was just such a kind, warm person. I believe in soulmates and I just knew that we were meant to be together."
Jessie James Decker Celebrates 30th Birthday With 'Friends'-Themed Party