'Jersey Shore' star Ronnie Ortiz-Magro reveals newborn daughter's name, says it started as a 'joke'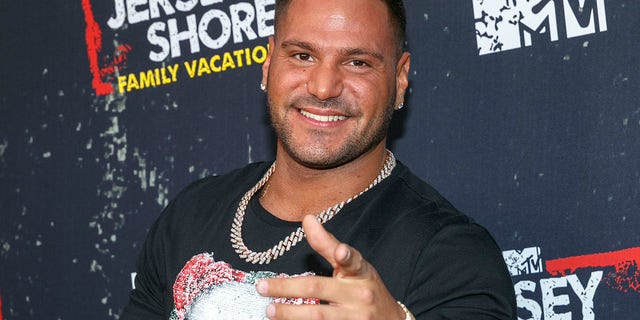 "Jersey Shore" star Ronnie Ortiz-Magro said his daughter's name was picked out even before his girlfriend Jen Harley got pregnant. The pair had "joked" about having a child when they first started dating.
"In the beginning, we'd joke around saying, 'What if we had a kid? It'd be crazy and good looking!' And we'd say 'What would we name it?'" Ortiz-Magro, 32, told Us Weekly on Tuesday.
There was one name the couple both agreed on: Ariana.
So, when Harley and Ortiz-Magro found out they were having a baby, they turned to each other and laughed.
"We looked at each other and we're like, 'Guess we're naming the baby Ariana if it's a girl,'" Ortiz-Magro told Us. "Next thing you know, we find out the gender and we're like, 'Guess so!'"
'JERSEY SHORE' FANS FIND MISTAKE IN MTV REBOOT'S SEASON PREMIERE, DEMAND ANSWERS
Harley considered switching the name to Sky, but in the end, they went with their gut. Instead, they chose Sky as a middle name. It was a "happy medium," Ortiz-Magro added.
The pair haven't been parents for very long — Ariana was born on April 3.
"The baby looks just like Ronnie," Nicole "Snooki" Polizzi told PEOPLE the next day. "She's tanner than me! I'm annoyed."
"She's a little chubby, fuzzy newborn. She already looks tan," Vinny Guadagnino also told the publication.
Ortiz-Magro is apparently adjusting well to fatherhood. Thankfully, his schedule still allows him to do things he loves — "gym, tan, laundry."
"We figure it's like a job and you have shifts as a job," said Ortiz-Magro, adding that he's an early bird. "We take turns. We're a tag team – I tag her in, she tags me out."
Ortiz-Magro discussed his breakup with longtime girlfriend Sammi "Sweetheart" Giancola on the season premiere of "Jersey Shore Family Vacation" earlier this month. Ortiz-Magro revealed that he cheated on Giancola after she pressured him for an engagement.
'JERSEY SHORE' STAR NICOLE 'SNOOKI' POLIZZI REVEALS HOW MUCH SHE EARNED DURING SEASON 1 OF THE MTV SERIES
"She gave me a timeline. She was like, I want to get married in six months — and I'm still trying to figure my life out," he explained on the show. "I got cold feet. I wanted to do the right thing, but there was a part of me that was like, 'I'm not going to do the right thing.' So I didn't do it. I ended up cheating, she found out. I blew it. It's over."
But it looks like the former couple is both happy.
Giancarlo is currently in a relationship with Christian Biscardi. And Ortiz-Magro is focusing on being a father and a boyfriend to Harley. Plus, he's already filming another segment for MTV.
"This is the first time I've been gone in 13 days. I wanna be on the next flight out of here," Ortiz-Magro admitted.
"Jersey Shore Family Vacation" returned to MTV on April 5 and airs Thursdays at 8 p.m. ET.