Jay-Z snubbed at Grammys, capping off one bad weekend after Trump feud
Jay-Z went home from the Grammys empty-handed, even though he was the most-nominated artist of the night, capping off a bad weekend for the rapper that included a highly publicized feud with President Trump.
The rapper left Sunday night's show with no trophies after receiving eight nominations for his album "4:44." The 48-year-old rapper couldn't get past the tough competition despite being the most nominated artist of the evening.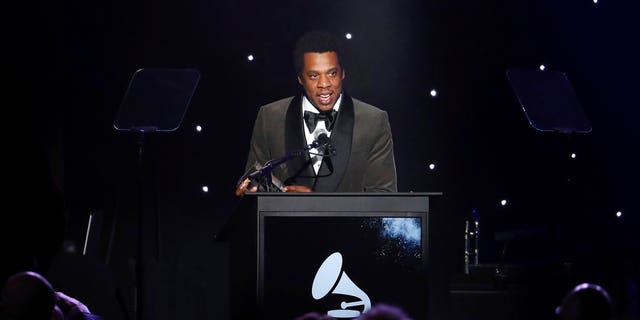 Jay-Z lost coveted awards, including album of the year that Bruno Mars took home for "24K Magic." Kendrick Lamar also took home best rap song for "Humble" and even gave a shout out to Jay-Z.
"Jay for President," Lamar said during his acceptance speech in New York City's Madison Square Garden.
Though some fans felt Jay-Z was snubbed at the show, others suggested Jay-Z's lack of wins was due to bad karma.
"Jay Z didn't win cause he cheated on Queen Bee, but I ain't the one to gossip *sips wine*," one viewer wrote.
The rapper did receive the President's Merit Award at Saturday's Clive Davis pre-Grammy gala — but that seemed to be overshadowed by his feud with Trump.
Jay-Z began the music awards weekend with an interview on CNN, during which he criticized Trump's alleged "s---hole countries" remark. He also said lower unemployment for the country's African-American population is not enough, when people in power are still mistreating minorities and others.
TRUMP RIPS JAY-Z FOR REMARKS ON AFRICAN-AMERICAN UNEMPLOYMENT
"It's not about money at the end of the day," he said on "The Van Jones Show." "Money doesn't equate to happiness. It doesn't. That's missing the whole point. You treat people like human beings. That's the main point."
The comments sparked a response from Trump, who tweeted: "Somebody please inform Jay-Z that because of my policies, Black Unemployment has just been reported to be at the LOWEST RATE EVER RECORDED!"