Jason Aldean recalls wild night with Kenny Chesney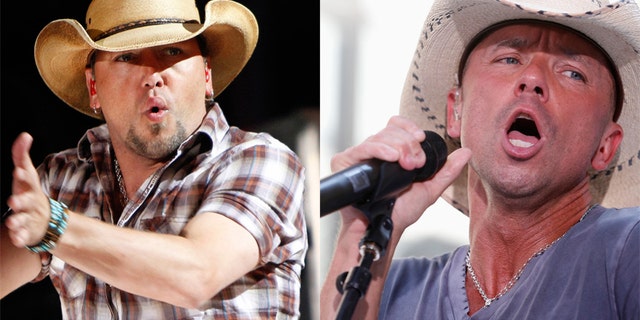 They might be two of country music's leading men, but when it comes to Jason Aldean and Kenny Chesney, there's certainly not any competition between the two — and they have the picture to prove it.
Aldean posted a photo of the two singers on Instagram, while they were enjoying a few adult beverages. The 'Burnin' It Down' singer was in Nashville at Buffalo Wild Wings with his girlfriend, Brittany Kerr, when Chesney called.
"He goes, 'Well, I'm at somewhere. We've been drinking margaritas all day,'" Aldean recalls to ABC News. "I was like, 'Well, come over here and meet us. We just sat down. We'll have a beer. Whatever.'"
Not surprisingly, one drink turned into an entire afternoon of imbibing on beer, tequila and rum.
"All I do know is, I think we ended up calling a car to take us home," Aldean adds. "Kenny, he's a funny dude, man."
The Georgia native says his friendship with the country music superstar began several years ago, when Aldean's own career was taking off.
"He's a good guy to kind to have there to kinda talk to about stuff and bounce ideas off of, and been there-done that kind of thing," he says. "And still, as long as he has been in the business, he still loves what he does."
It was a rare day off for Aldean, who kicked off the stadium dates of his Burn It Down Tour at Progressive Field in Cleveland, Ohio on Friday (July 18). His tour, which wraps up in October, will play in several other stadiums as well, including Nationals Park in Washington, D.C., PNC Park in Pittsburgh, Penn. and Philadelphia's Citizens Bank Park.
"This stadium run is something I've been looking forward to all year," he says. "It's wild to stand on the mound during load in and watch an empty park totally come alive with our production and crazy, loud fans."
See all of Aldean's upcoming shows here.