James Corden gets candid about his success, reveals how London terror attack impacted 'Late Late Show'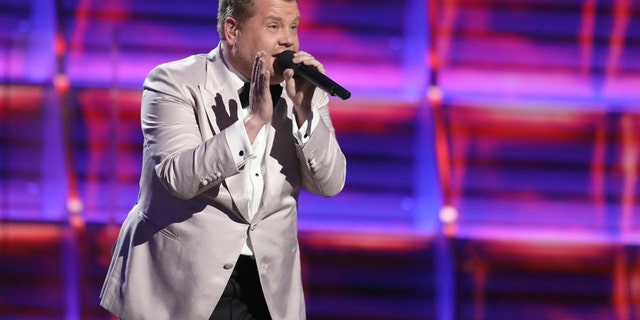 NEWYou can now listen to Fox News articles!
LOS ANGELES – Clad in a navy blue cardigan decorated with yellow teddy bears, James Corden took the stage at Variety's TV Summit in Beverly Hills to discuss "The Late Late Show," hosting the Grammys, Carpool Karaoke and how the recent U.K. terror attacks impacted the London-based episodes of his show.
The host revealed he completely changed the opening of his show once he learned of the June 3rd attack at the London Bridge, which came shortly after a deadly attack at a May 22nd Ariana Grande concert in Manchester.
"We were going to do this opening of the show set to – such a silly idea –… Thin Lizzy's 'The Boys Are Back in Town.' And it was going to be 'The Corden's Back in Town' with me walking around like I f--king owned the place and loads of people in London just not giving a s--t," he said. "We had shot maybe 60 or 70 percent of it, then on the Saturday we heard this terrible news, and it was like two weeks after Manchester…" he said with a pained look on his face.
The star said the "Late Late Show" team acted quickly to shift the focus of his opening.
"So immediately… we were like, 'We have to change the opening of our show,'" he said. "'We have to think of a new way to approach this and try and make our show a celebration of defiance, if you like,' a celebration of… the best thing I love about Britain is its sort of stoic determination."
As a result, he said opened the show with an explainer on why he was filming a show in London at the moment.
"And that's what we wanted to say."
Corden also spoke up about being selected to host the 2017 Grammys.
"…It's mind blowing to me," he said. "It's ridiculous, if you think about it. It's inconceivable to me that I would be hosting the Grammys, all of this is inconceivable to me."
He's also set to host the 2018 Grammys in New York in January, but he said the Grammys host isn't featured all that much during the telecast.
"…You're not in in very much as a host…pretty limited time," he noted.
Corden will also be busy later this year with more of his Carpool Karaoke segments heading to Apple Music. He revealed many celebs want to participate in the viral sensation, but he can't say yes to them all.
"Our rules are they've got to be big, established singers and stars," he said. "They've got to have hits and I've got to be a fan and have enough songs to sustain it. Over the last year we would get a lot of like movie stars that, don't get me wrong, would rate brilliantly and we would have massive uplift from it… and we'd go, 'Oh, no you can't.'"
Corden's life has changed dramatically with his ever-growing popularity.
"There is not a minute of every day that I don't get in my car and drive down Sunset Boulevard -- and my children are thriving here and my wife is so happy -- that I think 'I don't know what I've done to deserve such memories. I don't know what I've done to deserve such incredible memories in my life.' Because that is what it feels like."