J.R. Martinez's New Documentary "Trial By Fire" Set to be Released this Month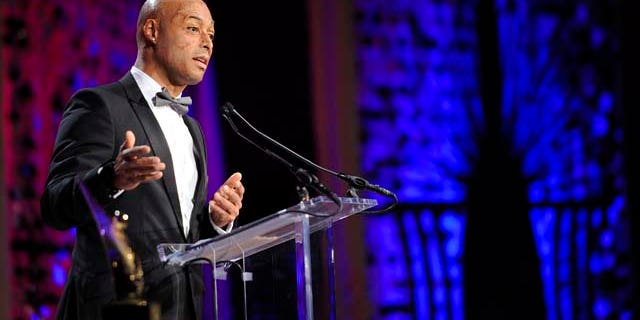 It has been "Trial By Fire" for Dancing With the Star Champ J.R. Martinez.
The Army veteran, who took up acting as his new career, is staying true to his New Year's resolution of inspiring others to "start believing."
"What appears to be the end may really be a new beginning," Martinez posted on Twitter Tuesday. "Start believing this now and #2012 will be better."
Martinez has partnered with non-profit organization Trial by Fire: Lives Re-Forged, which is releasing a documentary (this month) by the same name in the hopes of educating viewers on why they should be less cruel to burn victims.
In the trailer, the Salvadorian actor, who dethroned former TV host Ricki Lake on the 13th season of DWTS, begins talking about his ordeal, what he calls "his new birthday."
"April 5th, 2003 is my new birthday, it's a day that I will never forget just like a birthday," Martinez says somberly. "But, it's a day that I won't get phone calls or presents."
Martinez, 28, was severely burned when the humvee he was driving in Iraq hit a land mine. Over 40 percent of his body was scarred.
"I drove maybe, 100 yards, then all of a sudden boom!" Martinez continued. But, feverishly he states his new found mantra: "This is my body, these are my scars."
"Trial By Fire" Executive Producer William Harris tells Fox News Latino that he and his team feel "very lucky to have him in the film."
"It is a very powerful film with some very inspirational people," Harris said.
Martinez became an inspirational speaker back in 2008.
These days the celeb and girlfriend Diana González-Jones are busy with baby preparations.Martinez told People Magazine mid-December that he and González-Jones recently "found out it's a girl" and "are over the moon."
The dancing star was also honored as Grand Marshal on Monday at the 123rd annual Rose Parade in California.
In the documentary, Martinez urges everyone to look beyond the scars.
"Our scars are just a symbol of bravery, of courage, of strength," Martinez says. "If we step out there in the world and we say 'This is who I am' people will get to a point where they don't even see your scars."
"This is my uniform," he added. "I wear it every single day and there's nothing you can do, nothing I can do, to take it off."
The clip to the documentary ends with the message: "Fire is unforgiving… we don't have to be."
You can reach Alexandra Gratereaux at: Alexandra.Gratereaux@foxnewslatrino.com or via Twitter: @GalexLatino
Follow us on twitter.com/foxnewslatino
Like us at facebook.com/foxnewslatino