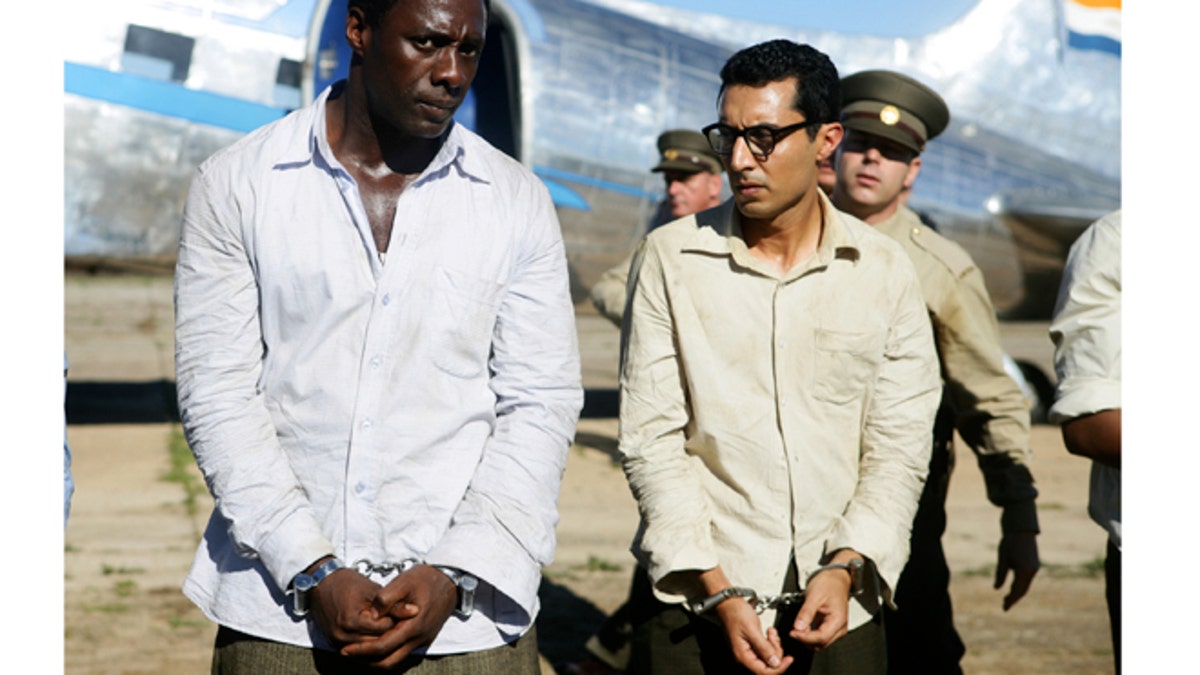 The mood was somber after a screening of "Mandela: Long Walk to Freedom" in London on Thursday, as the attendees—who included Prince William and Nelson Mandela's daughter, Zindzi — were informed of the former South African president's death.
"Zindzi learned about [her father's death] minutes before the screening actually took place," Us Weekly film reporter Charles Thorp told FOX411. "They asked her if she wanted to go through with the screening and she said [yes] because she believes it's an accurate portrayal [of his life]."
Thorp, who has written extensively about the film, said Mandela's family, as well as the actors in the film, were pleased with how accurately the movie depicted the Nobel Peace Prize winner.
So for those who aren't familiar with Mandela, is the movie a good way to learn about the famous leader's life?
Verne Harris, Director of Research and Archive at the Nelson Mandela Foundation, who assisted with some of the research for the movie, said it contains several historical inaccuracies, but overall it is on point.
"I think it offers a powerful and authentic representation of Mr Mandela's (Madiba's) life and times," he told FOX411 in an email. "But it is not a documentary, so unavoidably the demands of poetic license results in occlusions, the collapsing of several events into one, etc."
Still, history buffs may take issue with several scenes, he noted. He said those instances include when Mandela is depicted as captured on his own in 1962 when in fact he was travelling with Cecil Williams.
He added that in the film Mandela addresses the nation after the Boipatong massacre rather than after Chris Hani's assassination.
Still, overall, the film was given a thumbs up from the Nelson Mandela Foundation. Board of Trustees member Tokyo Sexwale told guests at a screening that the film is a touching tribute to Mandela.
"Madiba is often described as the person who emerged from prison, but the movie equally represents the man who was shaped by indigenous value systems while growing up in Qunu – that part of his legacy and persona comes though very strong in the movie."
And even with a handful of inaccuracies, the movie shows a balanced portrayal of Mandela, Thorp said.
"Idris [Elba, who plays Mandela,] has spoken to me extensively about how it included parts of Mandela that were not just placating to the legend. He was a charmer. He was a little bit of a womanizer… He wasn't a perfect person," Thorp said. "But he was someone who made strides so it acknowledges both of those things."
Other films, such as 1997's "Mandela and de Klerk" and 2009's "Invictus" previously have centered on Mandela, but the buzz among film experts is that this one may be the most accurate so far, Thorp explained.
"There's been a lot of portrayals of him—Sydney Poitier, Morgan Freeman—and I think many people would agree that this is one of the most accurate portrayals. Some people would say it is the most [accurate]."
Plus, at the end of the day, it may be worth seeing because it is a good film, Thorp said. After all, it got a thumbs up from Mandela's family.
"Zindzi loves the film. She loves Idris and she calls him 'an honorary Mandela.'"
"Mandela: Long Walk to Freedom" is now playing in select theaters.
[youtube pL8W3XI54jU]