"Intocable" Makes NFL History; Performs at Dallas Cowboys Stadium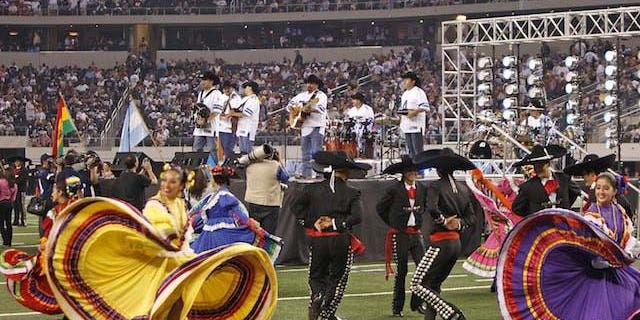 Intocable is making history -- and showing the influence that Regional Mexican music has made in the US.
The Latin Grammys nominee performed during the halftime show at the Dallas Cowboys stadium, where the Cowboys played against the Washington Redskins Monday night.
"It was an unforgettable experience," Rene Martinez, a member of Intocable, told Fox News Latino. "We have been Dallas Cowboys fans since we were all really little."
The native Texans proudly played their accordions while dancers resembling mariachi singers danced around the stage. Since the game was a tribute to Hispanic Heritage month, the dancers carried a flag from each Latin American country.
"This is the first time that our genre of music gets played at such a venue," Martinez said. "It was a very beautiful experience."
He says that although the group is flattered to be nominated for a Latin Grammy this year, the fans' opinion is what matters most.
"The real fans are not the ones who vote [in the Grammys,]" said Martinez. "Our best award is having a sold out event or have an album go gold or platinum."
And it's these fans who Martinez says keep the group "with their feet on the ground" both professionally and personally. All the members of the group still live in their native Texas and have no plans of moving any time soon.
"We love going to L.A. and Miami, but being here we are very centered," Martinez said, adding that the group has their own record label and studio in Texas.
You can reach Alexandra Gratereaux at: Alexandra.Gratereaux@foxnewslatino.com or via Twitter: @GalexLatino
Follow us on twitter.com/foxnewslatino
Like us at facebook.com/foxnewslatino