'Idol' recap: Steven Tyler mortifies two contestants; Louboutin pumps steal spotlight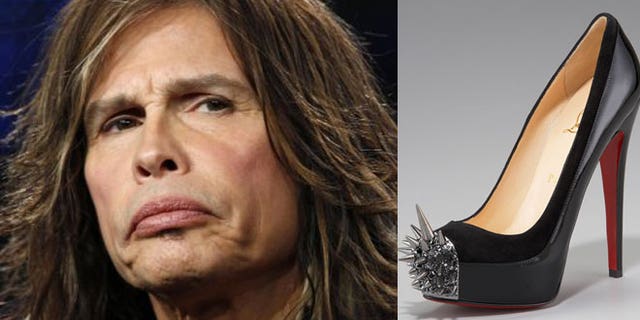 NEWYou can now listen to Fox News articles!
With just six weeks left until the "American Idol" finale, the seven remaining contestants battled each other Wednesday night singing songs from the very recent past.
Anything after 2010 was fair game.
Louisiana native Joshua Ledet earned the night's only standing ovation from the judges when he belted out an energetic version of Bruno Mars' "Runaway Baby."
"You can sell a song like a work of art," raved judge Steven Tyler. "Every time you sing, you sell it–that's 'cause your voice is so good."
Ledet, who turned 20 on April 9, also received a very special greeting from his favorite "Idol," season three winner Fantasia Barrino.
"From Fantasia to Mantasia, happy birthday," cooed Barrino via satellite.
Elise Testone got some words of encouragement from movie star Jason Segel who confessed, "I'm a giant fan of yours–I watch the show every week, and I'm sitting at home rooting for you. I think you're amazing."
"The Five Year Engagement" star even suggested that he hoped to meet Testone in person one day, adding, "I'll talk to you soon, Elise!"
Segel's flirty pep talk must have helped, because Testone, who landed in the bottom three last week, delivered a rousing rendition of Lady Gaga's "You and I."
"America, Elise is back," praised judge Randy Jackson. "You needed a moment, I think you got one tonight."
Sharp-shootin' Mississippian Skylar Laine opened the show with Kellie Pickler's "Didn't You Know How Much I Loved You," displaying her talent for playing guitar, along with her strong vocals.
"You could have a hit with a song like that," said Jackson. "That was crazy hot and crazy good."
Laine's maybe-paramour Colton Dixon also impressed the judges with a haunting version of Skylar Grey's "Love the Way You Lie," made popular by Eminem and Rihanna.
"You sang so many different types of artists, but it's always very Colton when you do it," said judge Jennifer Lopez. "It's the mark of a real artist."
[pullquote]
Dixon and Laine (who, it should be noted, both vehemently deny any romantic involvement) also paired up for a duet, singing "Don't You Want to Stay," by Kelly Clarkson and Jason Aldean.
"You just made love singing to each other," Tyler told a mortified Dixon and Laine. "So it don't much matter now anymore anyway."
Jessica Sanchez, who can count this week's mentor, R&B star Akon, as a fan, sang a passionate version of Jazmine Sullivan's "Stuttering."
"You slay it every time," said Tyler. "Not only do you have the nerve to sing that song with such a beautiful melody, you have the nerve to wear Jennifer's shoes."
Looking down at her $1,595 Christian Louboutin asteroid spike-toe pumps, Lopez laughed and said, "She's got good taste, what do you want."
Once again, Hollie Cavanaugh didn't quite hit the right notes with the judges, failing to impress with Pink's "Perfect."
"It wasn't perfect, but it's a lot better than where you were last week," Jackson damned with faint praise.
Phillip Phillips, whose "Idol" fame has driven up the prices at his family's pawn shop in Georgia (a stuffed turkey is now reportedly fetching $2500), underwhelmed with his rendition of Maroon 5's "Give a Little More."
"I've seen this performance now a couple of times," lamented Lopez. "It wasn't everything that I know you can give us."
Up next: James Durbin and Jennifer Hudson "come home to 'Idol'" and one of the contestants faces elimination.