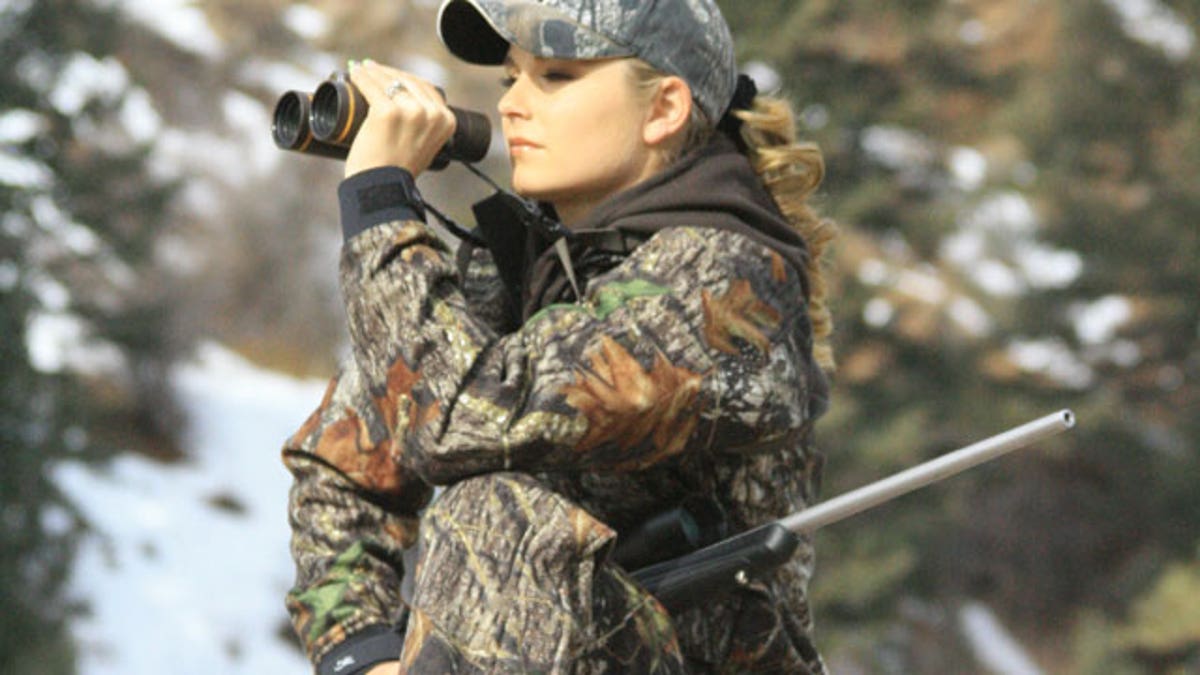 With the economy in the doldrums, more Americans are turning to down-home television shows about hunting, fishing, building and the art of making an honest living.
Rather than hitting Broadway or joining "Celebrity Apprentice," former "American Idol" finalist Kristy Lee Cook is starring in a new hunting reality program "Going Country" on Versus, which takes place in America's backwoods instead of Beverly Hills.
And instead of finding a place on the next "Surreal Life" or "Celebrity Rehab," nineties rapper Vanilla Ice will be starring in a home renovation series on the DIY network, a room by room makeover series called 'The Vanilla Ice Project'.
It's prime time for it too. Advertisers are latching onto so-called "red state programming" on cable and satellite sports and Do-It-Yourself networks like the Outdoor Channel, GIY Network, Sportsman Channel (tagline: "All Hunting, All Fishing, All the Time), Versus and The Pursuit Network.
FOX411: PETA Takes Aim at Kristy Lee Cook's Hunting Show.
"The outdoor sports channels and the gardening and home maintenance channels, they are catering to what is going on in the rest of the country. That's the true America that is watching those channels, which is why we are seeing advertisers start to move away from networks and towards cable," says media planning consultant Desmond D'Silva. "Advertisers in the past have had lofty ambitions about who they wanted to reach, but now they are realizing that it is middle America driving consumerism, the households that make around $40,000 a year."
The Sportsman Channel, founded by outdoor programming producer and avid outdoorsman C. Michael Cooley in his basement in 2003, was purchased by InterMedia Partners in 2007 and launched on Direct TV in 2009, growing 600 percent in the past year and reaching distribution in 27 million households.
"We've always done well with hook and bullet advertisers," explained Sportsman Channel's director of business development Graig Hale about the sponsors the network has historically attracted for shows like "Predator Quest" and "The American Huntress." "But now we are starting to see support from insurance advertisers and spirits and restaurants. Non-endemic advertisers now want to reach our demographic."
Progressive, GEICO, Jack Daniels and Honda are among the channel's advertisers this year.
The Sportsman Channel and others like it also appeal to the highly coveted demographic of 25-45-year-old males, a segment advertisers are willing to pay a premium to reach because they typically don't tune into network programming as often as women do.
"There has certainly been a growing recognition in recent years that there is, for lack of a better word, a red state audience," says The Hollywood Reporter's television editor James Hibberd. "The shows of [producer] Thom Beers have proved there is a huge audience for male-friendly programming. Shows like the 'Deadliest Catch' and 'Ice Road Truckers' are now spawning imitators across the networks to tap into that demographic."
In 2005 Beers began ushering in the spate of shows on the Discovery Channel and History Channel that focus on "danger jobs," among them "Deadliest Catch," "Ice Road Truckers," "Lobster Wars," and "Monster Garage," all of which showcase hard, honest work.
As digital cable and satellite continue to fragment the cable market, there is now the ability for channels to evolve to suit all manner of hobbyists. This fragmentation is allowing advertisers to shy away from network programming that appeals primarily to viewers in big cities. Hibberd noted that shows like "30 Rock" and "Mad Men" frequently win Emmys, but that is also because they are the shows lauded by the press on the East and West Coasts. "They're shows about people who work in media. Not shows about real hardworking Americans," Hibberd said.
What folks who don't work in media seem to be watching are the shows that focus on sports and hobbies and work.
Versus, the rebranded Outdoor Life Network that dedicates more time to hunting and fishing shows than its competitor ESPN, says that 2009 saw the highest viewership since the network was founded in 1995. "The viewers are going in one direction and the advertisers are tagging along after," D'Silva said. "Now we will have to see if the big networks leave this game to the little guys or start bringing on more of this red state programming."