Hollywood's On-Again and Off-Again Couples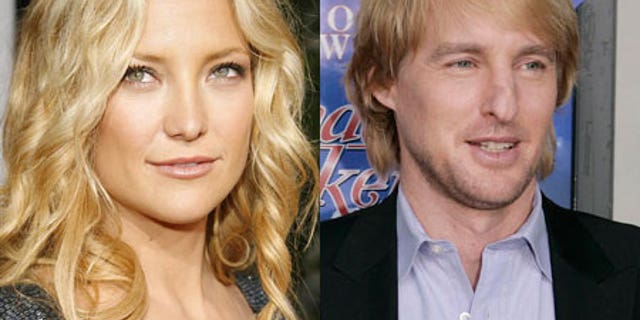 When Kate Hudson and Owen Wilson first emerged as a couple in September of 2006, we were happy to hear that something good had come out of the abysmally bad movie "You, Me, and Dupree."
Then they broke up less than a year later, and Owen went to a very sad, dark place. In February 2009 Kate and Owen seemed to be spending time together again. And although neither confirmed that they were dating, there were rumors that he'd proposed in Paris and that they were due to wed in June of this year.
But not so fast, as new reports are surfacing that say the couple has split YET AGAIN. Seems Kate has a fear of commitment. Shocking. Is this really the end for Kate and Owen? Can their on-again, off-again romance ever just stay on? Based on our analysis of other tumultuous Hollywood love affairs over the years, the odds are not good.
Photo gallery: See Hollywood's On-Again/Off-Again couples.

Travis Barker and Shanna Moakler
Current Status: Off Again
The public rollercoaster ride love affair of Travis Barker and Shanna Moakler took another very public turn recently. A frustrated Shanna posted a blog on her MySpace page, detailing their ups and downs since Barker's plane crash. She says he was exchanging sexy texts with lots of women (including her friends and other celebrities) and that he's making up stories that she's not a good mother. Barker contends (through his reps, of course) that she cheated on him with "300" hottie Gerard Butler.
Drew Barrymore and Justin Long
Current Status: On Again?
Drew Barrymore and Justin Long started their PDA tour of Hollywood in August of 2007 and broke their lip lock within a year. But when they went on the press junket for "He's Just Not That Into You," rumors of a rekindling started to fly. They've been seen making out all over town. And though there's no official confirmation of a renewed off-screen relationship, they have agreed to re-team onscreen for the romantic comedy "Going the Distance."
Richard Burton and Elizabeth Taylor
Final Status: Off
Taylor and Burton were the quintessential on-again/off-again couple. They met on the set of "Cleopatra" and started a passionate love affair, despite being married to other people at the time. It was scandalous. A Vatican City weekly even cited Liz for "erotic vagrancy." So Burton made an honest woman out of her. They married in 1964. Then they divorced in 1974. Then they married again in 1975 and divorced AGAIN a year later. During their time together they made a few movies, including "Who's Afraid of Virginia Woolf?" and "The Taming of the Shrew," and a TV movie called, appropriately enough, "Divorce His — Divorce Hers."
Jennifer Aniston and John Mayer
Current Status: Off Again
Ever since Brad left her for Angelina, the world's been rooting for Jennifer Aniston to find true love. We were skeptical when she started dating rock playboy John Mayer last April, and then not the least bit shocked when they broke up four months later. When we heard she took him back two months after that (we're now in October, for those of you keeping track), we wanted to say, "Jen, seriously, the guy's a doofus." But we didn't have her number, and we're not sure she reads our blog. Luckily, she came to that conclusion on her own and dumped him over incessant Twittering. Will they get back together? Probably not after Jen hears the lyrics to the new song he unveiled on his Mayercraft Carrier cruise: "Drop his name/push it in, and twist the knife again/Watch my face/as I pretend to feel no pain, pain, pain." Sounds like John's jealous of Brad. Tweet that.
Tommy Lee and Pamela Anderson
Current Status: Off Again
Talk about a whirlwind romance. The "Baywatch" beauty met the Mötley Crüe drummer in February 1995 and married him 96 hours later. She filed for divorce twice before finally going through with it in 1998. Their union yielded two sons, a scandalous videotape, and diagnoses of Hepatitis C. She went off and had another on-again/off-again romance with Kid Rock, while Tommy went on to make some good/bad reality shows ("Tommy Lee Goes to College" and "Rock Star: Supernova") and record and tour with Crüe. In 2008 Pam and her two boys moved back in with Lee, but it was unclear if they were rekindling the romance. Clarity came in 2009 when "news" broke that Pamela had moved into a Malibu trailer park with her electrician boyfriend.
Don Johnson and Melanie Griffith
Current Status: Off Again
This one's a little creepy. Don began dating Melanie when she was just 14 years old and he was 22. They married when she turned 18 (he waited until she was legal — what a romantic!) but divorced six months later. Had she passed the expiration date? A more mature Melanie reconciled with Don in 1989, and they had a daughter. Clearly older and wiser, they kept it together for seven years before splitting again in 1996. Melanie fared much better with Antonio Banderas, and they've been happily married since.
Kate Moss and Pete Doherty
Current Status: Off Again
The relationship between supermodel Kate Moss and Babyshambles frontman Pete Doherty was nothing but a super-shambles. He was already a drug-addicted rock star when they met at her 31st birthday party in 2005. She knew he was bad news, but she didn't care. The on-again/off-again train had left the station. On again in 2007, he announced their engagement at a concert; in true celebrity love fashion they split four months later. They've remained apart despite Pete's reported attempts to win her back. After being asked to not attend a Lily Allen concert to avoid a potentially ugly encounter with Moss and her new beau, Jamie Hince of The Kills, Doherty said, "Then I'd probably have head-butted her new boyfriend, put her over my shoulder, and run off." Aahhh, true love.
Nicollette Sheridan and Michael Bolton
Current Status: Off Again
The first time around, they lasted from 1992 to 1997. Why did they split? Maybe it was some ongoing feud over whose long blond hair was prettier. Regardless, riding high on her hit TV show "Desperate Housewives," Nicollette reunited with the now-shorn Michael in 2005. Coincidence? We think not. And while hair debates no longer stood between them, his kids apparently did. According to reports, Bolton's three grown daughters insisted not only on separate houses during a 2007 family vacation, but separate islands too. The girls stayed on St. Maarten while Nic and Mike stayed on St. Barts. Seems blood is thicker than water. They split in 2008.
Kim Porter and Sean "Diddy" Combs
Current Status: Off Again
Sean and Kim have a lot of history. They started dating in 1996 and had a baby together in 1998. They split a year later and had a very public child-support battle while Diddy was dating Jennifer Lopez. Diddy and J. Lo broke up in 2001, and he ultimately reunited with Kim and had twins. But they split again in 2007. Was Sienna Miller the cause this time? She denied the rumors and claimed she was deeply in love with someone else. But maybe Balthazar Getty's wife (Balthazar may have been that "someone else") has a different opinion on how the whole thing might have gone down.
Jude Law and Sienna Miller
Current Status: Off Again
Jude seduced Sienna on- and off-camera while filming the 2003 "Alfie" remake, and the couple was engaged on Christmas Day the following year. But when news broke a few months later of his affair with his children's nanny, Sienna called the whole thing off. But they just couldn't stay apart, reconciling shortly after Nannygate. Proving once again that love does not conquer all, Jude left Sienna in November 2006 amid reports that he couldn't take her partying ways. At least no one blamed it on Diddy.
Ryan Gosling and Rachel McAdams
Current Status: Off Again
They met on the set of one of the most overrated, sappy love stories of all time, 2004's "The Notebook," and dated for three years. Their split reportedly upset crazed fans all over the world who couldn't seem to separate movies and reality. And while they briefly reunited last summer, sources were saying they were off again by year's end. So for all of you movie fans who find yourself devastated by the news yet again, we suggest renting "Swing Shift." Kurt Russell and Goldie Hawn are still happy together after 25 years.