Hollywood Stars Happy With Prop 8 Ruling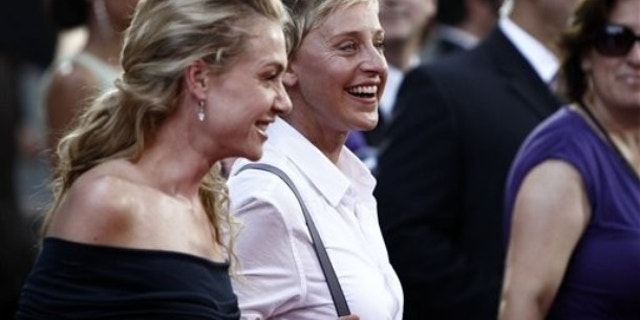 Many in Hollywood were quick to express their delight on Wednesday afternoon following a federal court judge's declaration that Proposition 8, which bans same sex marriage and is currently enforced in California, was unconstitutional.
Porta De Rossi, who married Ellen DeGeneres during the brief period in 2008 when same sex marriage was legal in California, expressed her excitement.
"I am ecstatic that proposition 8 has been overturned in the state of California. This is an incredibly exciting and historical day and a big step towards equal rights for all," she told Pop Tarts in a statement.
"Prop 8 was struck down! This news is amazing!!!! It's about time! Congrats to everyone!" Kim Kardashian tweeted, while actor Nick Zano too gave the state quite the applause.
"Congratulations to the great state of California for righting its wrongs," he wrote.
Miss California Pageant Director Shanna Moakler, who was embroiled in last year's Carrie Prejean controversy following her stance against gay marriage at the Miss USA pageant, tweeted "congrats to the @Noh8Campaign and all of the LGBT community! I am so happy and proud..."
Paris Hilton also celebrated the court's decision, tweeting, "What a huge historical day for equal rights in this country! They finally overturned Prop 8! There shouldn't be a law on true love. :)"
A slew of stars said Wednesday's ruling has restored their love for the Golden State.
"A MAJOR step forward. Everyone deserves the right to love whomever they choose. I am proud to be from Cali again!" Sophia Bush tweeted, while Milla Jovovich wrote "Yay! Finally ppl r being treated equally! And CA is cool again!" and Whitney Port added "Equality for all! Go California!! Xoxoxo have Fun tonight loves."
It seems Adam Lambert in particular will do just that.
"We're gonna throw glitter on this barn tonight!!!" he tweeted.
To others, the overturning of Prop 8 is a positive sign of the times.
"Equal rights for everyone! Nice to be out of the 1950s," model/author Olivia Munn tweeted, and recently out-of-the closet pop prince Ricky Martin had his say:
"YEAHHHHH!!!!! #prop8unconstitutional Moving Forward!!!!!!!!"
And while Rose McGowan was quick to tweet that she "wants to be a flower girl in a wedding asap," her dream isn't set in stone just yet. U.S. District Chief Judge Vaughn R. Walker put a temporary hold on his order until Friday, giving supporters of Proposition 8 time to file an appeal.
But according to Governor Arnold Schwarzenegger, August 4, 2010 will always be a pivotal date for Californians.
"For the hundreds of thousands of Californians in gay and lesbian households ... this decision affirms the full legal protections and safeguards I believe everyone deserves," he said. "Today's decision is by no means California's first milestone, nor our last, on America's road to equality and freedom for all people."
- Deidre Behar contributed to this report.