Hollywood stars follow Obama's gun control script, tweeting White House talking points on cue
LOS ANGELES – Hollywood stars make their living delivering lines written by others, and on the subject of gun control many are quoting a script written by an unlikely source – the White House.
An email sent last week to Tinseltown's A-listers by Associate Director of Public Engagement at the White House Jesse Moore – titled "Artists & Entertainers Unite to #StopGunViolence" and addressed to "Family" – offered Twitter-ready talking points for showing support for President Obama's gun control agenda. FoxNews.com, which obtained a copy of the email, compared it to tweets sent by such stars as Ashton Kutcher, and found that the stars passed the thoughts on to adoring fans with little or no ad-libbing.
"This seems an unprecedented abuse of White House influence to manipulate the public into believing celebrities genuinely supported the president," said Dan Gainor, vice president of business and culture at the Media Research Institute. "Hollywood is just an extension of Obama's press office."
"This seems an unprecedented abuse of White House influence to manipulate the public into believing celebrities genuinely supported the president."
The email followed last Obama's Jan. 5 announcement that he was issuing an executive order to require that anyone selling firearms get a license and conduct background checks, deploying more than 200 Alcohol, Tobacco and Firearms agents and investigators to enforce existing laws and pushing $500 million in spending on mental health issues he says are related to gun violence.
It is not known how many people the email went out to, but sources said it was received by several high-profile actors, directors, publicists, producers and writers. It offered cut-and-paste language to fit Twitter's 140-character limit, as well as President Obama's agenda.
"Below you have: short and long-term action steps, more info on POTUS's actions, highlights from YOUR Tweets thus far (thank you!), and draft Tweets for you to build from if helpful," the letter read.
It went on to offer step-by-step guidance for powerful entertainment figures to use their clout in the service of Obama.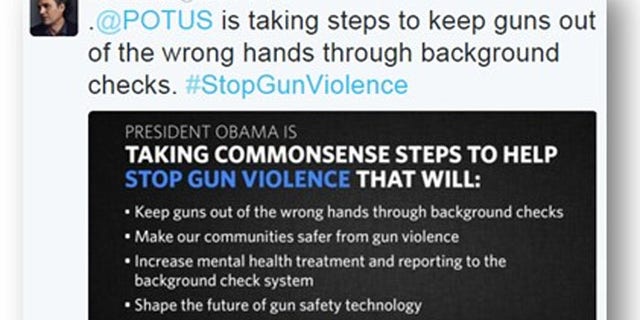 "Make your voice heard on social media today using #StopGunViolence and see how many of your peers you can get to do the same," it read. "I'll make sure everyone here knows you have the President's back.
The White House's Office of Public Engagement, which disseminated the informal instructions, bills itself as the "embodiment of the President's goal of making government inclusive, transparent, accountable and responsible," also provided "draft tweet language" that included a link to the White House gun control campaign.
Examples included:
@POTUS is taking new commonsense steps to help #StopGunViolence.
@POTUS is taking steps to keep guns out of the wrong hands through background checks.
FACT: Each year, more than 30,000 American lives are cut short by guns. It's time to #StopGunViolence.
FACT: Guns now kill as many people as cars in almost half of the U.S. It's time to #StopGunViolence.
@POTUS is strengthening our background check system.
Among the stars who dutifully relayed the messages to their followers were Ashton Kutcher and Mark Ruffalo, who tweeted "@POTUS is taking steps to keep guns out of the wrong hands through background checks; and famed singer Andrea Bocelli, who tweeted "FACT: Each year, more than 30,000 American lives are cut short by guns. It's time to #StopGunViolence" to his 207,000 followers.
A White House representative told FoxNews.com that such communications are nothing new.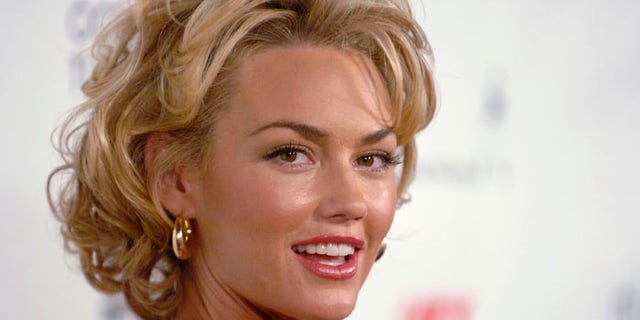 "We involve creative types/athletes in just about every issue and this is one that so many people are passionate about," said the spokesperson, who asked not to be named. "Yes, we want to meet people where they are so we ask celebs what issues they are interested in… All of this gets the message out further to a broad number of people which is always helpful."
Other stars, including Julianne Moore, Melissa Joan Hart, Kerry Washington and Janelle Monae were ready to go with the #StopGunViolence hashtag on the very day Obama announced his executive orders. Days later, some 100 Hollywood heavyweights including Bradley Cooper, Jessica Alba and Judd Apatow to Olivia Munn, Edward Norton, Will Ferrell and Olivia Wilde went even further by sending a joint letter addressed to the President – but more likely targeted at the people who buy movie tickets.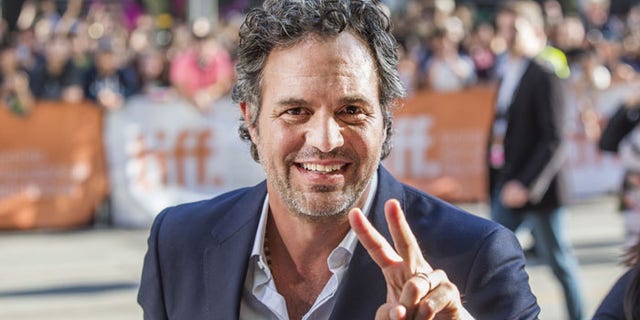 "Thank you for beginning to end this national disgrace and show your fellow citizens and the rest of the world that the United States of America does indeed stand for the principles of which it was founded," read the letter, which was sponsored by the Brady Campaign and Center to End Gun Violence.
Celebrity and politics have long been intertwined, said Brown University Sociology Professor Hilary Levey Friedman. Given the immediacy of social media, it is understandable that the White House would want to sharpen the message.
"To assure an accurate message is shared, politicos clearly want to be as detailed as possible when enlisting celebrities and their platforms," she said, referring to the "draft language" guidelines.
Still, such close coordination with the White House amounts to "Using allies to spoon feed and crowd-source radical political propaganda," said Matthew Vadum, senior editor at the Capital Research Center.
"In the Obama era, the entertainment industry has been openly complicit in administration plans to promote so-called health care reform, for example, gleefully parachuting pro-Obamacare propaganda into TV shows," Vadum said. "As the president tries to unilaterally crack down on firearms, it's not like he needs to put a gun to Hollywood heads. Zombie-like, they'll repeat any words he stuffs into their mouths."
Not everyone in Hollywood only believes in carrying guns on set. Superstar tough guy Kurt Russell recently went on ABC's "The View" and delivered an impassioned defense of the Second Amendment.
"I think there is a very strong reason the Founding Fathers had for the Second Amendment, and that is that no government– no government ever– hasn't had to fight its own people, and its own people hasn't had to fight its own government," Russell told the left-leaning hosts of the daytime show.
Kelly Carlson, star of the FX show "Nip/Tuck," said being told how to think and what to say by the White House is insulting.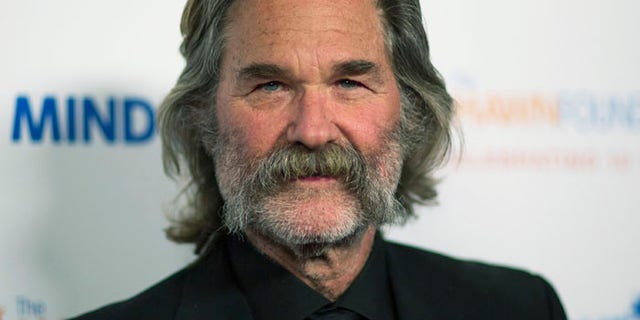 "It makes me sad to see good people being grossly exploited and manipulated, because of their lack of knowledge on the subject," Carlson said. "If ANY elected official, from ANY political party sent me this mob-style propaganda letter, I'd very disrespectfully tell them to go to hell; I don't subscribe to coercion."
An outspoken gun owner, Carlson wondered why those who share her beliefs aren't sought out to contribute to the debate.
"If public safety was actually Obama's desired outcome, he would also enlist some of the people who own a firearm," Carlson said. "Why? Because neither side wants innocent people to get hurt by a person using one with ill intent."