'Hobbit,' 'Frozen' to win Christmas season at box office as newcomers stumble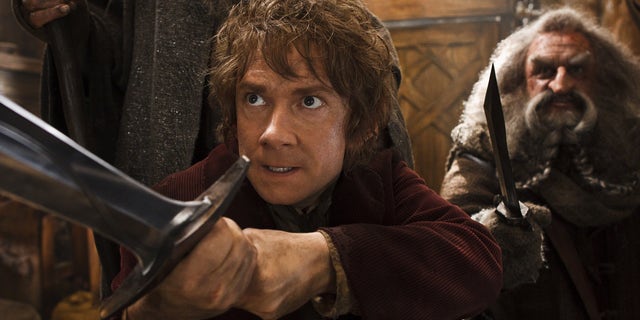 A pair of holdovers continue to dominate the domestic box office this holiday weekend while a crowded slate of wide openers are faltering.
In first for the third consecutive weekend since its opening is Warner Bros.' "The Hobbit: The Desolation of Smaug," which earned $10.1 million Friday and is expecting about $50 million Wednesday-Sunday. The epic crossed $500 million at the worldwide box office Friday, and if this frame goes according to expectations, it will become the third film in 2013 with three consecutive weekends at number one after "Gravity" and "Fast and Furious 6."
Just on "The Hobbit's" heels and most poised to upset its threepeat is Disney's "Frozen." In six frames, "Frozen" has consistently performed strongly with one weekend on top and several others in second or third place. "Frozen" beat "Hobbit" Friday with $10.3 million, but will earn about $45 million in five days.
Paramount's "Anchorman 2: The Legend Continues" and Sony's "American Hustle" are expected to take third and fourth for the long weekend with around $35 million each.
Meanwhile, newcomers from almost every major studio fight over what's left of Christmas table scraps.
Paramount's "The Wolf of Wall Street" leads the pack with $6.3 million from Friday and a five-day anticipated total just shy of $35 million. With a little added interest, it could overperform and leap up to third place by Sunday, but a "C" CinemaScore indicates a low likelihood of that happening.
Fox bowed "The Secret Life of Walter Mitty" on Christmas and it has earned $17.1 million to date, with $4.5 million from Friday. It is looking at seventh place this frame with $26 million.
Universal has already taken a writedown for an undisclosed amount of the $175 million budget for "47 Ronin," something of an admission of the film's anticipated failure. It is now expected to land just north of $20 million in five days, slightly higher than previous estimations, but still a disappointing sum.
And in even worse shape, though it was certainly not nearly as expensive to produce, Warner Bros.' "Grudge Match" is looking at a meager $13 million from Wednesday-Sunday. It took 11th place Friday with $2.4 million, but may be looking forward to more favorable midweek numbers as the comedy aims at older audiences who tend to avoid the opening weekend rush.