Hillary Clinton slams Matt Lauer for focusing on email scandal in forum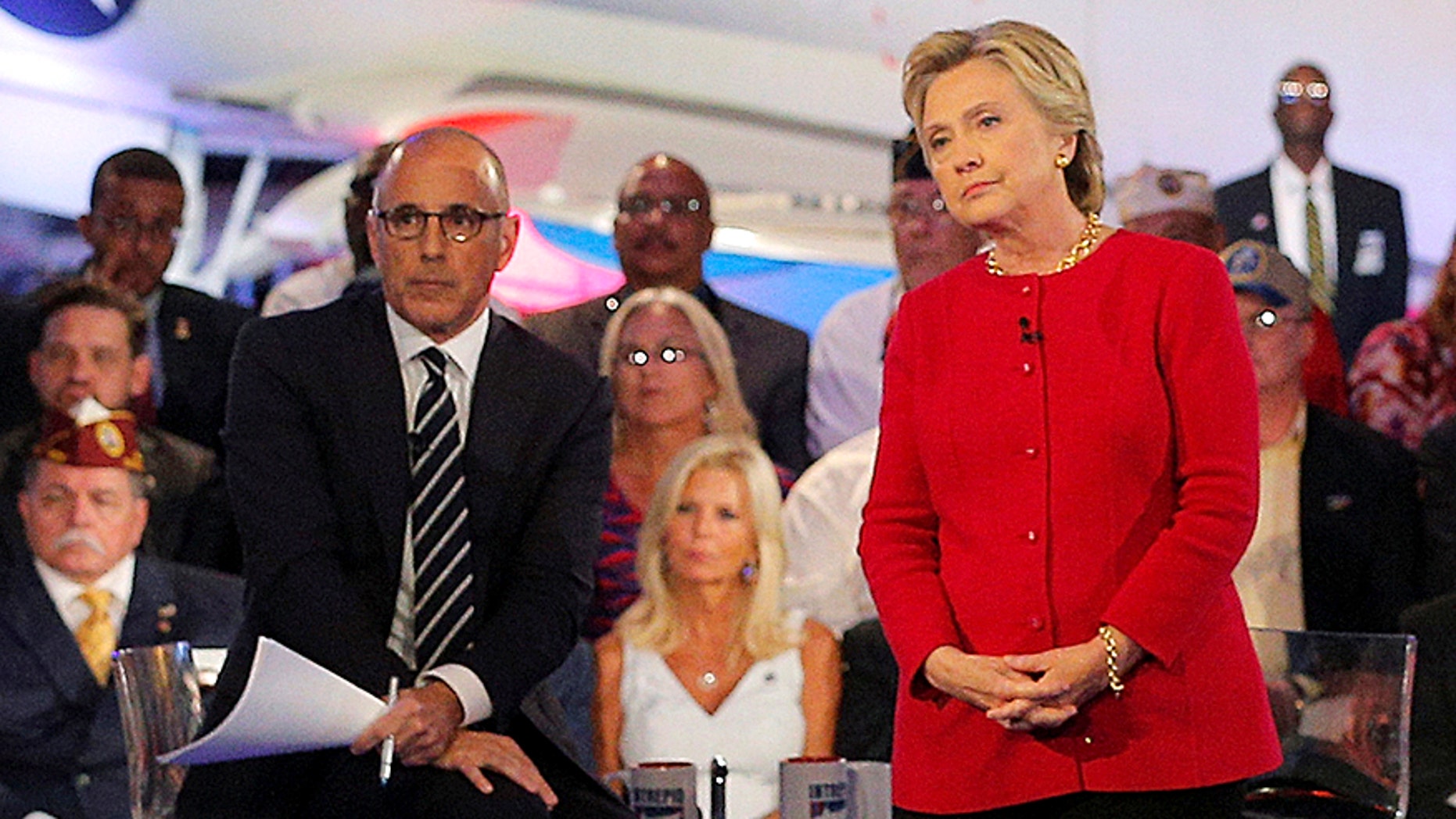 Hillary Clinton is reportedly blaming NBC's "Today Show" host Matt Lauer for focusing on her highly publicized email scandal at the presidential forum held in New York City's U.S.S. Intrepid last September.
The 69-year-old Democrat is releasing a new memoir on September 12 titled "What Happened," focusing on what caused her loss in the 2016 presidential bid against Donald Trump.
The Daily Mail reported Thursday Clinton wrote she was "ticked off" and "almost physically sick" by the morning show gabber's persistent focus on her emails.
"Lauer had turned what should have been a serious discussion into a pointless ambush," she reportedly wrote.
At the time, the anchor pressed Clinton about her email negligence, saying: "You're communicating on highly sensitive topics. Why wasn't it more than a mistake? Why wasn't it disqualifying?"
He also asked about her 20002 Senate vote: "How do you think these people feel when the person running to be their commander in chief says her vote to go to war in Iraq was a mistake?"
However, when Trump repeated his claim to have opposed the Iraq war before it started, the newsman failed to follow up on that point, resulting in criticism. The Washington Post's Chris Cillizza tweeted that Lauer was tougher on fallen Olympian Ryan Lochte.
A rep for Lauer and NBC did not immediately return Fox News' request for comment.
Clinton also explained how she felt "numb" after losing the election. On Election Day, she decided to take a nap while her husband Bill was "chomping on an unlit cigar" as results came in. Bill reportedly said "You might lose."
The UK-based news site added Clinton claimed making the concession call to Trump was "without a doubt one of the strangest moments of my life."
"I congratulated Trump and offered to do anything I could to make sure the transition was smooth," she said. "It was all perfectly nice and weirdly ordinary, like calling a neighbor to say you can't make it to his barbecue. It was mercifully brief."
Clinton admitted to indulging as a means to cope.
"I drank my share of chardonnay," said Clinton, adding she was "splurging on burgers and fries" and "enjoying every bite."