Heath Ledger's Final Film Premiere: Where Were His Three Best Friends?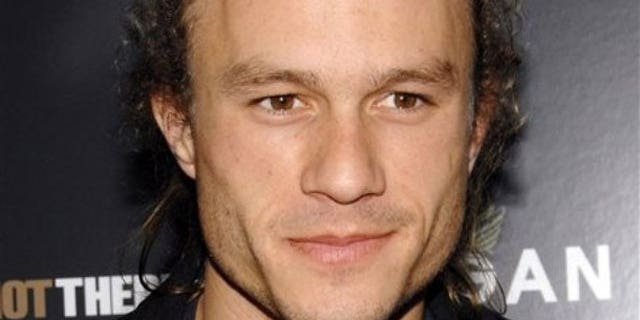 NEWYou can now listen to Fox News articles!
LOS ANGELES – It's been almost 22 months since Heath Ledger's death, however Monday evening marked the last time the young actor would 'star' at a Hollywood Premiere. Ledger was amid filming the fantastical tale "The Imaginarium of Dr. Parnassus" when he died, prompting his close friends Johnny Depp, Colin Farrell and Jude Law to step in and finish where Ledger left off.
However the three big wigs were notably absent from the gala festivities, prompting many to question the whereabouts of his three buddies that so graciously took over the role. It turns out Farrell was busy playing dad as his girlfriend just gave birth over the weekend, Depp is apparently busy filming and Jude Law instead spent the night at the "Only Make Believe" 10th Anniversary Gala in NYC. But according to a source close to the film, his pals still find the topic emotional and it is not something they want to openly discuss.
Last year Pop Tarts asked Colin Farrell about the decision to replace Heath and he admitted it was something he definitely struggled over.
"It was a very difficult decision to make, when I first heard about it I totally freaked at the idea," Farrell told us, visibly stressed. "But it was important to get Heath's work out and doing what I think Heath would have wanted, which was finishing the movie to its entirety."
However the film's other co-stars were fully prepared to talk about Ledger's legacy and what they'll miss most about him.
"He had an unbelievable generosity of spirit – whether it's someone you pass in the street or a friend," British supermodel turned actress Lily Cole said. "If I could narrow him down to one quality, the first thing that comes to mind is how he dealt with acting and the generosity he gave of himself fearlessly to every character."
Cole is also best friends with fellow supermodel/screen starlet Gemma Ward (who was also romantically linked to Ledger at the time of his death) and has since stayed away from the modeling arena in mourning of her former flame.
And 'Imaginarium' co-star Christopher Plummer also had quite the Ledger obsession.
"I was crazy about him as a person, but what really amazed me was his range as a young actor. He had the guts not to do something for commercial reasons and always took the brave choice that was the most difficult," Plummer said. Terry Gilliam added that Ledger was "sweet, generous, full of life and very ancient in some strange way – far to for a guy in his twenties."