Haunting photos of Whitney Houston's hotel room reportedly show details of her last moments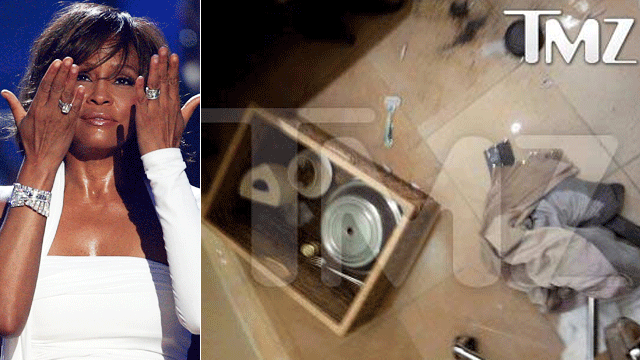 A series of photos of the hotel room, bathtub and room service Whitney Houston ordered has been released showing the scene where the 48-year-old singer died.
The photos – chilling in their very banality – were allegedly snapped just moments after Houston was removed from the tub and obtained by TMZ. According to police, Houston was found unresponsive in the tub Saturday.
The tub, still filled with water, is seen with a silver gravy boat sitting in it, which Houston reportedly filled with olive oil to keep her skin soft.
Hair ties are seen floating in the still water, and a hairbrush sits at the side of the tub.
Another photo shows scraps and dishes from Houston's last meal, which was reportedly a cheeseburger, beer and French fries. Champagne can also be seen on the table.
A third (above) shows a room service tray and wet towel on the floor where friends and a rescue crew tried unsuccessfully to revive her.
On Monday, law enforcement officials told FoxNews.com that Houston likely died from a lethal cocktail of prescription drugs and alcohol.
Some critics and commenters have slammed the decision to release the photos, claiming the minutiae of her final moments being put on display is invasive and inappropriate.
"Who is selling these photos to TMZ?," one commenter wrote. "How invasive!"
"No need to show what her last meal was," another wrote. "Have a little respect."
Houston's funeral is set for Saturday in her hometown of Newark, NJ.
The owner of the Whigham Funeral Home in Newark said Tuesday that the funeral would be at the New Hope Baptist Church, but there will be no wake and no public memorial at Newark's Prudential Center, the sports arena that Houston's family had discussed as a possible venue.

Her body arrived in New Jersey late Monday, driven in a gold hearse.
An impromptu memorial for Houston was held Sunday during the Grammys, with Jennifer Hudson saluting her memory with a performance of "I Will Always Love You." Viewership for the awards show soared over last year by 50 percent, with about 40 million viewers tuning in.
A sensation from her first album, Houston was one of the world's best-selling artists from the mid-1980s to the late 1990s, turning out such hits as "I Wanna Dance With Somebody," "How Will I Know," "The Greatest Love of All" and "I Will Always Love You." But as she struggled with drugs, her majestic voice became raspy, and she couldn't hit the high notes.
Houston left behind one child, daughter Bobbi Kristina Brown, 18, from her marriage to singer Bobby Brown.
On Monday, mourners left flowers, balloons and candles for Houston at the wrought-iron fence around the tall brick New Hope church.
The Associated Press contributed to this report.