Hank Williams III: 'Pop country really sucks'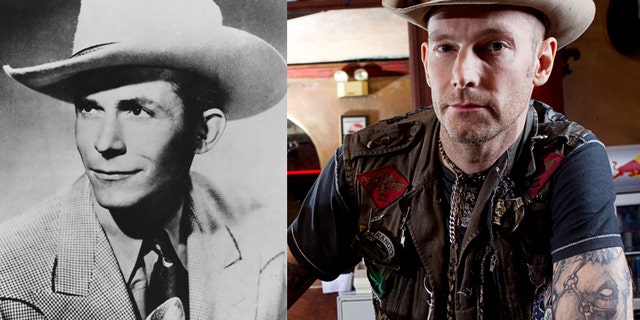 NEWYou can now listen to Fox News articles!
NEW YORK – A mixture of yodeling and ear-piercing screams can be heard in the distance as Shelton Hank Williams, more commonly known as Hank Williams III or Hank3, gears up for a four-hour set at the Gramercy Theatre in New York City.
The grandson of the legendary Hank Williams and an artist in his own right with a strong cult following, Williams could easily fill much larger venues, but the singer refuses to charge his fans more than $30 a ticket, opting for more intimate settings.
"I just always played to play," he told FOX411 before taking the stage. "For someone like me, if I ever had huge success or whatever that is, I would just play smaller venues two to three nights in a row just to keep the intimacy level there and that's my take on it, but it just depends what you're going for."
Donning a cowboy hat, the 41-year-old bears an eerie resemblance to his "Your Cheating Heart"-singing granddaddy. But covered in tattoos and metal chains, Hank3 is not his grandfather and he has worked hard to develop his own sound often referred to as "hellbilly."
"Each Hank Williams has always had an independent streak," the country rebel said. "I've always known the kind of songs I wanted to sing and play."
A punk rocker-turned country singer, Williams refused to play the "Nashville game" and after many years fighting his record label in court for stifling his creativity, Hank3 was finally free to pursue his vision: a combination of traditional country music and heavy metal albums.
"It's really tough – if you're on a major label and they want you to have a number one song, you need to do what they say," he said. "I still believe in hope and that a good song will push itself."
While the "Country Heroes" singer is known for blending punk and metal sounds with country, he says 70 percent of his music "is true to the sound of country music," he has some harsh words for pop country.
He describes his disdain for today's popular country music is clear in his song "Dick in Dixie."
'"The kind of country I hear nowadays is a bunch of f---ing sh-t to me," he sings. "They say that I'm ill-mannered, that I'm gonna self-destruct, but if you know what I'm thinkin' you'll know that pop country really sucks."
Williams isn't opposed to new sounds in country – he just wants the Nashville scene to start accepting different kinds of artists into the fold.
"It seems that pop country has stuck around a long time," he noted. "We've got to be progressing – new sounds have to happen – but it's not just this [pop] sound and nothing else. It just doesn't seem [the industry] is giving the underdogs much of a chance."
Hank3 complained in his song, "we're losing all the outlaws" that are being replaced by "kids from a manufactured town" that have "no idea about sorrow and woe because they're all just too busy kissing ass on Music Row."
What is country music to the man who was a country music royalty before he learned to sing a note?
"To me, country music is emotions, certain harmonies," he said when asked to describe what country music is to him. "But it's all in the emotions – a lot of good times, a lot of hard times."
He said there are very few artists singing "true" country music today, but Hank3 is uncertain what's in store for the genre that is his family's legacy.
"It's really going to be interesting to see what's going to happen with the future of country music."