Halle Berry and Daniel Craig made it from the streets to stardom, but not all stories have Hollywood endings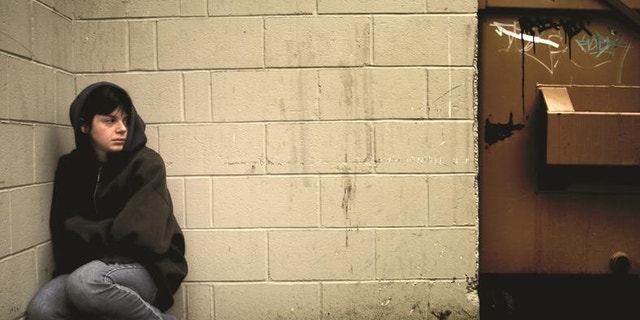 LOS ANGELES – With big dreams of becoming a famous actor, a 20-year-old struggling male model moved to Hollywood from his small Midwest hometown in 2005. Without a penny to his name, and unable to find work, he was soon evicted from his L.A. apartment, and found himself one of Hollywood's thousands of homeless.
"I don't have wealthy parents, and they couldn't help me. Either I sleep on the streets or I move home. Amazing what you will do to be an actor," he told FOX411.com's Pop Tarts column. "The best place was sleeping at the 7-11 in Hollywood until I figured out a way to get on my feet. I still made auditions, and no one had any clue I was homeless. It was hard to find places to clean up, but I got by."
After six months on the streets, he got his big break: a role in an independent film. Making more friends and contacts in the industry, he also managed to find a couch to sleep on, and continued to score more work. Today, the actor boasts credits including a successful network sitcom and a role in one of the biggest super hero film franchises in history.
His story had a happy ending, as do those of Oscar winners Hilary Swank and Halle Berry, and "James Bond" star Daniel Craig, all of whom once called the streets home. But for every performer who makes it, there are thousands of others who don't. Of the 84,000 homeless people in Los Angeles County, experts say many are not the 'typical' homeless you find in other cities struggling with substance abuse, mental health and family issues. Instead they are dreamers who came to L.A. with nothing, and have yet to get their big break.
Or even a small one.
[pullquote]
A homeless man in Santa Monica, Ca. who declined to give his name, told FOX411's Pop Tarts that he rehearses Shakespeare monologues and practices guitar every day, waiting for an agent to hear him. A fashion model told us she recently went rollerblading along Venice Beach and was shocked to find her ex-boyfriend, once a promising actor, now living with a group of homeless young people.
"I took him home, gave him new clothes and offered for him to stay with me until he got on his feet," she said.
Christian Calloway is the entertainment industry's leading character actor for homeless roles, and spends countless hours on the L.A. streets honing his niche, talking to homeless people who think their big break is just around the corner.
"When I meet a homeless person, the conversation is often led by them explaining their Hollywood dream," he told us. "But the homeless who once wanted to be stars quickly discover there is nothing [in Hollywood] to support them."
Calloway said most homeless Angelenos he meets say they are victims of high rent and a lack of work.
"Years ago, the streets were lived upon by those who came with a dream to be a star, but had no real plan or skill to make it happen," he continued. "In today's age of homeless Hollywood career seekers, we find people that once had part of that dream... [Many] lost all they had to the economy and could no longer provide the lifestyle that they had become accustomed to."
Drugs can also play a prominent role.
"The act of breaking into the entertainment industry is no easy feat, and a lot of people move out here with a very skewed perception of what life out here will be like," Richard Taite, Founder and CEO of the rehab center Cliffside Malibu, said. "Drugs are often one of the primary factors in driving people to the streets, and I think this is even more pronounced in individuals seeking the limelight in the first place."
Taite said that aspiring performers turn to drugs in an attempt fit in, to cope with the stress of the lifestyle or to deal with the pain of rejection. However, homelessness can also happen after one has achieved fame: a movie tanks, a show gets canceled, and work dries up. In a post "Partridge Family" world Danny Bonaduce admitted to living in his car behind Hollywood's famed Chinese Theater, battling substance abuse, and unable to score a gig.
Homeless entertainers do have places to turn, however. The homeless shelter Covenant House California offers music, dance and filmmaking programs to assist residents, and Executive Director George Lozano says many have used the program as a stepping stone to get back in the workforce.
"Some of these youth from around the U.S. think they have a better chance for employment or to turn their lives around if they come to Hollywood and pursue a career in entertainment," Lozano said, adding that most homelessness, however, is still due to "abuse, abandonment, neglect or [aging out] of the foster care system."
Rev. Andy Bales, CEO of Union Rescue Mission in Los Angeles, routinely encounters aspiring writers, photographers, set builders and actors of all ages in need of a bed, and urges those with dreams of stardom think things through first.
"Make sure you have a solid plan, a job, and a place to stay before coming," Bailes advises. "It's also important to develop skills aside from entertainment."
Just ask Connie Chung. She was homeless, on and off, for seven years as she tried to make it as a Hollywood writer. "I met many people [on the streets] who sought stardom in the performing arts," Chung said.
She finally hit the big time, but not in the movies or TV. She chose academics instead, and is now completing her graduate degree at Harvard University. But Chung still wonders what became of her fellow homeless Hollywood dreamers.