Rihanna tells Trump to stop playing her music at 'tragic' rallies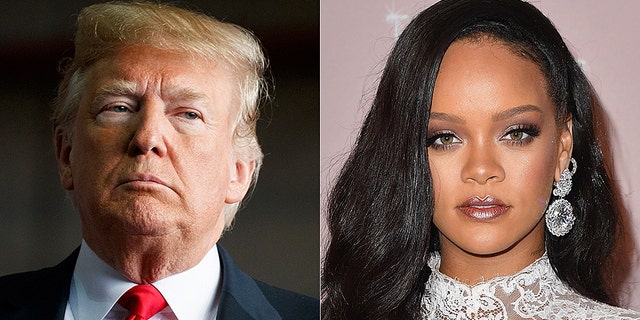 Rihanna hit back at President Trump after a reporter informed the singer her song was being played at the president's rally on Sunday.
The "Umbrella" singer found out the Trump administration played her hit song "Don't Stop the Music" at the weekend event in Chattanooga, Tenn., after The Washington Post's Philip Rucker tweeted about the incident.
"Not for much longer...," Rihanna said about Trump playing her tunes. "Me nor my people would ever be at or around one of those tragic rallies, so thanks for the heads up philip!"
Rihanna isn't the only musician slamming the president for playing their songs.
PHARRELL WILLIAMS SENDS TRUMP CEASE-AND-DESIST LETTER FOR PLAYING 'HAPPY' AT RALLY AFTER SYNAGOGUE SHOOTING
Pharrell Williams' lawyer sent a cease-and-desist letter to Trump last month after "Happy" was played at a rally in Illinois just hours after a gunman killed 11 people at a Pittsburgh synagogue.
"There was nothing 'happy' about the tragedy inflicted upon our country on Saturday and no permission was granted for your use of this song for this purpose," said Howard King, a lawyer for Williams.
Steven Tyler, Prince's estate, R.E.M. and Queen also previously demanded Trump stop using their songs at events.
Tyler sent three cease-and-desist letters to Trump — two in 2015 for "Dream On" and one this August for "Livin' on the Edge."
On Sunday, Rihanna also took to Instagram to endorse Andrew Gillum, the Democratic candidate for Florida governor. She urged her fans to vote in the midterm elections and to vote "yes" on Amendment 4, which would restore voting rights to Florida residents with felony convictions but have completed all terms of their sentence.