Gloria Trevi Launches New Self-Titled Album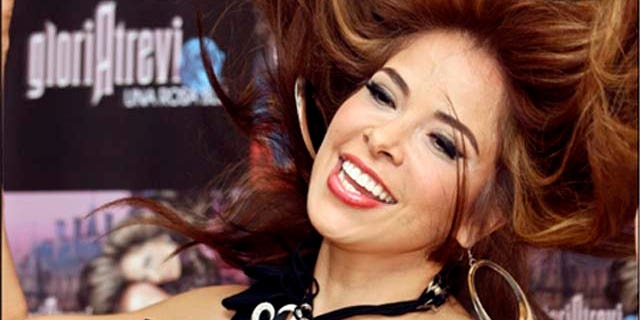 After a three year interval, Gloria Trevi is launching her new album on iTunes.
The international debut of the self titled album "Gloria" comes after "La Trevi" took a three year break upon releasing her 2007 album "Una Flor Blue."
In an exclusive interview with Walmart Acceso Total, the pelo suelto star dishes on her new project and where she finds herself artistically.
"I wasn't planning on waiting to launch another album," Trevi told Acceso Total. "But, the success, thank God, of 'Una Rosa Blue' was over the top. The tour was intense… in Mexico, the United States and Central America."
For this album, Trevi mentions how she took her time digging for new material. She had set the bar high for herself and didn't want to disappoint.
"The songs had to be better than ever," said Trevi in the interview. "One becomes so much more demanding and careful."
"An album is like a child and after a while I was ready to give birth!" she added. " 'Gloria' began growing in an incredible way."
Trevi's new project includes the main single "Me Rio de Ti," a song which the singer feels gives off a "positive message in a situation that can potentially be very painful."
"Choosing which song would be the main single was very difficult for me," Trevi said. "It is a very simple song that is not pretentious in any way. It's all about enjoying and having fun to the fullest."
Looking into the future, La Trevi, as she calls herself, can't wait for her fans to hear the new collaboration between her and "La Chica Dorada" Paulina Rubio.
"I loved working with my friend and colleague Paulina Rubio," said Trevi. "It was an awesome goal we had to break barriers… come together and sing for our people."
Closing her interview, Trevi looked back at how her relationship with her fans has evolved and keeps growing.
"Our bond goes beyond artist and fan," said Trevi. "I hope that this album goes with you and your most precious moments, uniting us along the way."
You can reach Alexandra Gratereaux at: Alexandra.Gratereaux@foxnewslatino.com
Or via Twitter: @GalexLatino
Follow us on twitter.com/foxnewslatino
Like us at facebook.com/foxnewslatino