'Glee' Recap: Gleeks Search for Partners on Duet Night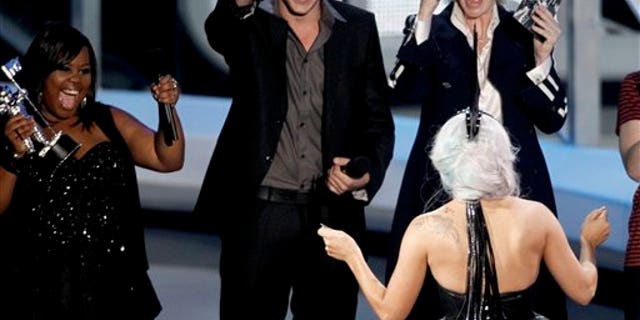 It's duet night on "Glee," and while everyone is looking for a partner, not everyone pairs off the way you'd expect them to.
Kurt has his eye on hunky new kid Sam Evans — for more than just singing. But Finn and Burt urge Kurt to leave Sam alone; Sam's still new, and he'll be hopelessly uncool if he sings a duet with Kurt.
Finn also has an ulterior motive. Though he and Rachel know they could easily bag the duet competition — and the winning couple gets a free meal at Breadsticks! — they want Sam to win, so he'll stick with glee club and help them win nationals. As much as Rachel hates losing, she says Finn has inspired her to be a better person — and she really wants to win nationals.
Cue the Melissa Etheridge: Brittany and Santana are hooking up, though Santana insists it's not about making "lady babies," it's only because Puck is in juvie. Brittany seems a little hurt and targets Artie to be her duet partner instead. She'll do anything to get him to sing with her, even if it means helping him lose his virginity.
Santana pairs up with Mercedes, Tina sings with BF Mike Chang (though they are squabbling a bit and may need "Asian Couples Therapy"), and Kurt decides to sing by himself. That leaves Sam free to sing with Quinn, and there are more than a few sparks between the two. Guess Sam doesn't play for Kurt's team after all!
That said, Quinn has mixed feelings about Sam. He makes bad "Avatar" jokes when he's not doing Matthew McConaughey impressions, and Quinn is reluctant to get involved with anyone again.
Meanwhile, Artie and Brittany are done — for now. Santana tells Artie that Brittany was just using him for his voice, and Artie feels violated; sex is important to him, as he wasn't sure he'd ever be able to be intimate after his accident.
So Artie and Brittany drop out of the competition, while Rachel and Finn intentionally blow it by singing a love song while wearing "really inappropriate" priest and nun costumes.
Finn and Rachel persuade Sam and Quinn to sing together, and they win the contest, despite the fact that almost everyone voted for themselves. They head to Breadsticks to enjoy the free meal, but Quinn decides not to use the vouchers. She wants Sam to pay, so it can be a real first date.
Kurt may not have been right about Sam's sexuality, but he did get one thing straight: Sam dyed his hair blond in order to come off as a cool surfer. Guess it worked on Quinn!