GIFT GUIDE: A Very 'Jersey Shore' Christmas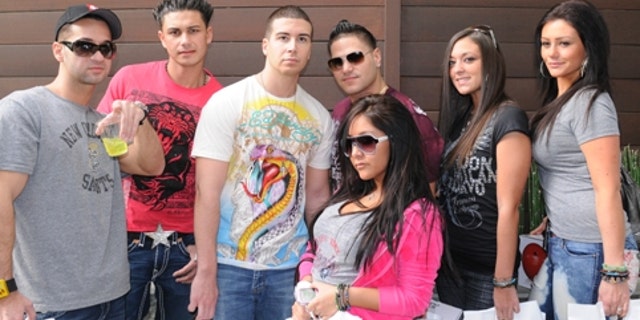 The new season of MTV's "Jersey Shore" does not premiere until January, but that doesn't mean you can't have a very Jersey Shore ho-ho-holiday.
For that special "Shore" fan on your Christmas list, the infamous duck phone from season one makes the perfect gift. The show's original 1980s quacking landline was bought at a yard sale for five dollars. Now, Snooki's arch-nemesis commands as much as $150 on eBay—but if you're lucky, you can snag one for as low as $10, plus shipping.
The Shore Store, tee-shirt shop where the gang worked (and lived above) in Seaside Heights, NJ has an online store where you can purchase tees and booty shorts with slogans in questionable taste for $10-15
Snooki fans have a wealth of options to choose from—including her very own line plush slippers, available in silver and leopard print (naturally). "They're so comfy and look like fricken sneakers," Snooki tells FOX411.com exclusively. "This is the perfect gift for my family and yours!"
For those on your list who share Snooki's love of pickles, a five-gallon jar (that's almost 45 lbs.!) of Bay Valley Kosher Whole Dills from foodservicedirect.com will be sure to delight.
Snooki and her pickle obsession inspired artist jenyffermaria on Etsy.com to create a watercolor of the diminutive diva, sitting in a pickle patch, talking on the duck phone. This gift, suitable for framing, will set you back $50.
Another Etsy.com artist, benvoldman, created an ink portrait that even Snooki herself wants! "i am LOVING the painting of me by Voldman," she Tweeted about the $50 portrait. "Where can i get it?!"
For those who want Snooki close to their heart, artist mariesegal has created a $20 polymer clay brooch of a hirstute Snooki popping out of a zippered, flesh-colored heart. The artist will even personalize the piece with a "small sentiment if you wish."
While Mike Sorrentino hasn't quite inspired artists in the same way that Snooki has, there's still plenty of gifts available for fans of "The Situation."
The self-described guido has penned a book, "Here's the Situation: A Guide to Creeping on Chicks, Avoiding Grenades, and Getting in Your GTL on the Jersey Shore" which contains dubious dating advice and tales of his new-found fame.
If the fan on your list prefers to have Mike's abs as opposed to his panache with the ladies, "The Situation Workout" on DVD might be the answer. The DVD promises to reveal "The Sitch's Secret Exercise: THE secret recipe to Mike's famous abs." Not bad for $11.98.
DJ Pauly D. has yet to write a book or make a workout DVD, but if you're shopping for a friend who could use a little bling in his life, Pauly's oversized rhinestone rosary beads are made by Luxury Laces and retail for $100.
Sadly, JWOWW's nascent clothing line, Filthy Couture, is no more—but for girls who are lacking Jen's (ahem) oomph to fill out those daring styles, JWOWW's plastic surgeon, Stephen T. Greenberg, MD, can help. On Jen's web site, she raves about the good doctor, "I am happy to say that not only did I like the overall experience (I am) more than happy with the procedure results."
Ostracized former cast member Angelina Pivarincik fittingly has the cheapest gift on the Jersey Shore gift list this year—her debut single, "I'm Hot" is available on iTunes for 99¢
Wishing you and yours a Very Jersey Christmas!
GIFT GUIDE:
Five-gallon jar of Bay Valley Kosher Whole Dill Pickles
Here's the Situation: A Guide to Creeping on Chicks, Avoiding Grenades, and Getting in Your GTL on the Jersey Shore
Official Jersey Shore Rosary Necklace
I'm Hot (feat. Andy Stein) by Angelina Pivarnick