German rock band Rammstein slammed for 'tasteless' concentration camp promo video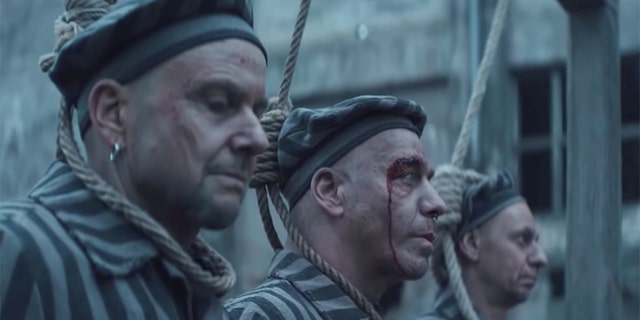 German hard rock group Rammstein sparked criticism after posting a video promoting their new single "Deutschland" that featured band members dressed as concentration camp inmates.
The video, which was posted on Twitter and Youtube, showed the band members wearing nooses around their necks, standing on a gallows. The rockers were also wearing striped uniforms similar to the ones prisoners were forced to wear in the concentration camps. Deutsche Welle reported one of the band members appeared to be wearing a yellow Star of David on their uniform.
Jewish groups and others called the video tasteless and unacceptable, while the government's anti-Semitism official, Felix Klein, told Bild newspaper in comments published Thursday, the video was "a tasteless exploitation of artistic freedom."
EGYPT BANS SIGNER SHERINE ABDEL-WAHAB FOR SAYING COUNTRY LACKS FREE SPEECH
Charlotte Knobloch, a Holocaust survivor, told Bild the video "crossed the line."
"The instrumentalization and trivialization of the Holocaust, as shown in the images, is irresponsible," she said.
Rammstein and its label has refused to comment on the 35-second clip, and it's not clear what message it is intended to convey, nor how the lyrics of the unreleased song tie in with it.
OZZY OSBOURNE GUITARIST BERNIE TORME DEAD AT 66
The short clip only has instrumental audio, and ends with the words "Deutschland," which means "Germany" in German, in gothic-style lettering.
The popular German band, which formed in 1995, has come under criticism before for its music videos, album art and songs, Deutsche Welle reported.
The Associated Press contributed to this report.