German metal legends the Scorpions helped tear down Cold War walls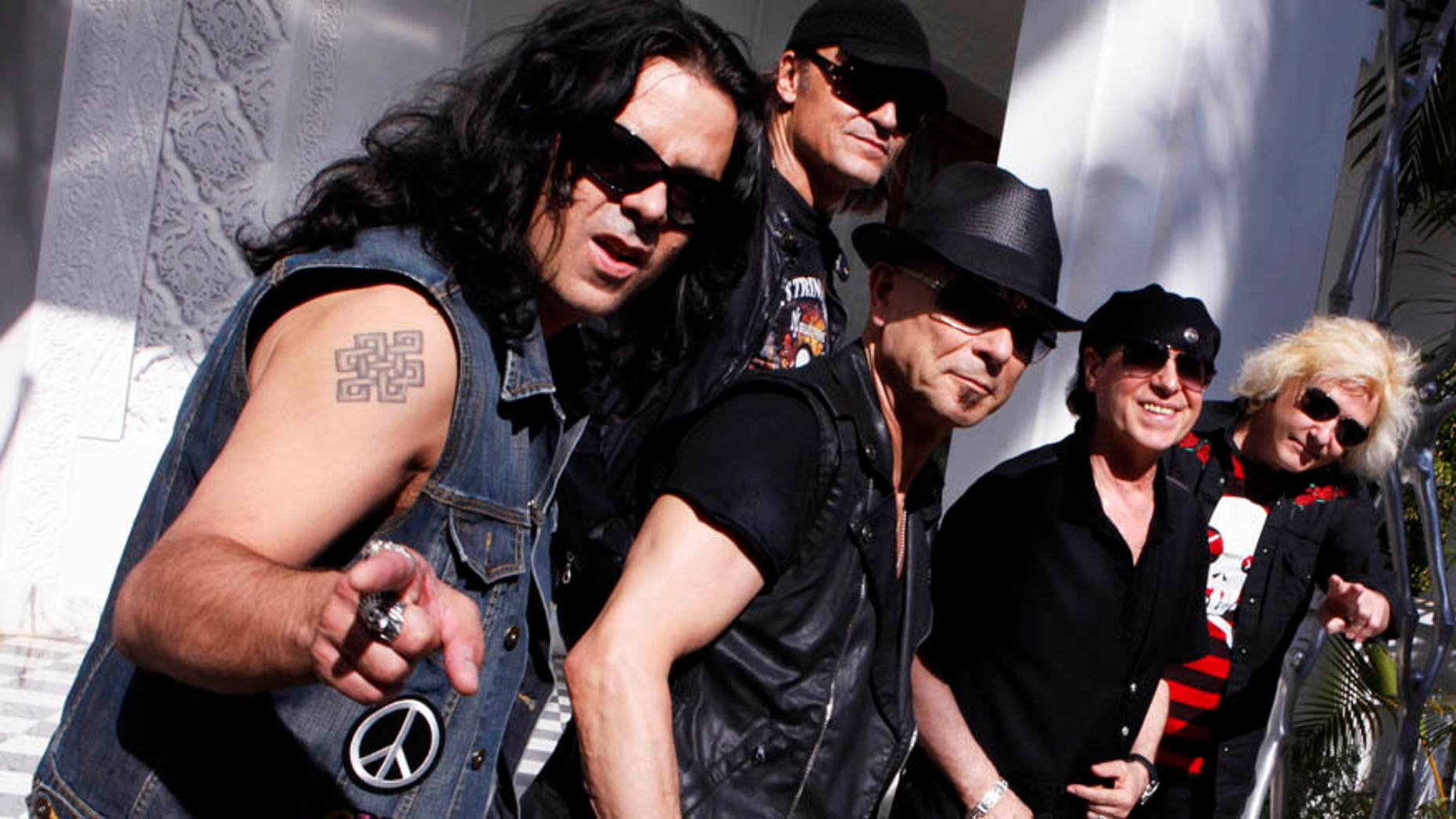 NEW YORK – You can't stop the Scorpions. The longtime German masters of metal ("Rock You Like a Hurricane," "Blackout," "Wind of Change") are marking their 50th anniversary with new album "Return to Forever," which will be released Stateside on September 11, right as the 100-million-album-selling band begins a 16-city U.S. tour. ("Forever" has been available internationally since February.)
We caught up with founding Scorpions rhythm guitarist Rudolph Schenker, 66, and lead guitarist Matthias Jabs, 59, to get das Wort (i.e., the word) on the band's legacy, creating indelible metal anthems, and continuing to break cultural barriers by touring Russia today after first going there in the '80s.
FOX411: Celebrating 50 years as a band is mighty impressive — you've now joined The Rolling Stones and The Beach Boys in terms of longevity. Did you ever think when you started the Scorpions all those years ago in Germany that you'd stand the test of time?
Rudolph Schenker: Yeah, that's a long time, isn't it? When I started the band, I was very inspired by The Beatles and The Stones. I saw four and five guys together, traveling around the world — friends, making music together. Friends! That was my philosophy from the beginning. I was looking for good musicians and people who I could make a friendship with. That's why the band is still standing, and that's why we play this kind of music. We built this sound. We went through storms, but we're still here. We built this house on rock!
Matthias Jabs: Yeah, exactly! Well, 50 years is just Rudolph, you know. (chuckles) Klaus [Meine, vocalist] is 45 years, and I'm 37. Rudolph founded the band in 1965, which is amazing. Having a band that long that puts out a brand new album and goes on a world tour is also amazing. Some bands exist for 50 years and you haven't heard new music in a long time. We actually are coming up with a new album every other year.
FOX411: Speaking of new music, I like the hard-driving power of "Return to Forever" songs like "Rock My Car" and "House of Cards," but I think my favorite song is the one that has a bit of a twist to it: "The Scratch."
Schenker: Oh yeah yeah yeah! That was one that came at the last minute! It's fantastic that somehow we have the freedom to do this song — as long as it's swinging, rocking, and grooving. That's the good thing about it. You have this song soup, and if you put some chili in, then it's great. Without the chili, it's still great, but not as great when you add the chili in.
Jabs: I was just listening to that one in the car. Recording all of the guitars for it was so much fun. The idea Rudolph had for it is great. It has a Benny Goodman type of vibe, with rock guitars. I wish we would do a video for that one! (chuckles) Get a Benny Goodman lookalike to be the conductor.
FOX411: When you were growing up in Germany, what side of the Berlin Wall were you on?
Schenker: I was on the West side of the Wall. That was the reason I told the band, when we became big in the States in 1982, "We have to go to Russia." People said, "You're crazy! There's nothing happening in Russia — there's no music, no record companies, no fans." I said, "I have the feeling we have to go there. It's a fantastic country, and we can show them that the Germans have a new generation growing up. We're not coming to make war — we're coming with guitars and playing rock & roll music and bringing love and peace."
Jabs: I didn't even think about the history of being a German touring the world for so many years. When I'm in America or England, I don't think about where I come from. But when we go East, somehow, you start thinking, "Ok, I'm German, even though I wasn't even born when we had the World War." The German parents were the ones who did fight the Russians, so it makes you more aware, the history that people talk about. And now we have a different situation. It's the next generation. Now the Germans come with guitars, and the fans love it.
FOX411: By going to Russia in 1988, do you feel the Scorpions were able to break down some of those Cold War barriers?
Schenker: Yeah, that was the basic idea! They had a new man in charge there, Mr. [Mikhail] Gorbachev, with glasnost and perestroika, so he gave us the possibility to play in Russia! When we came, we wanted to do five shows in Moscow, but we got canceled because the authorities were afraid there could be riots before the First of May Parade [i.e., Victory Day, May 9, which denotes the day that celebrates the Russian Red Army defeating the German Nazis in World War II]. So we did ten shows in Leningrad [now known as St. Petersburg]. We had 15,000 people every night. It's an interesting thing. In '85 and '86, we had a big hit with "Still Loving You" [from 1984's "Love at First Sting"] in Russia, even when they didn't have the records. In this case, we were already very much welcome, and that was the beginning of making peace with Russia. They were a great audience. We found we had great fans in Russia — and all over the world.
Jabs: It's a piece of the big puzzle, and maybe a very important piece, even. It was definitely the right move to take the risk to go to the USSR, the communist USSR, in 1988 — to go to Leningrad, and take the risk of mounting ten shows in a row. We got 15,000 people every night. People were coming by train, by plane, by bus — you name it. We had a great crowd every night, I think, because we had the foot into that door so early. The fans welcomed us so much, and still do today. They say the Scorpions have been adopted by the Russian public, the fans. It has to do with our very early brave move of going there, and not knowing what to expect.
FOX411: Russia could use a little more of that kind of love now, would you agree?
Schenker: We played in Russia nearly four weeks ago [in May and June], and it was fantastic. The fans are still amazing, and we don't feel this kind of tension between the East and West. We feel the fans are the same, as they always were. It's a great thing, what we can do with music. We can build bridges. We can show the politicians that there's another language in the world. It's not about making big muscles, or whatever — it's about music. Music is understandable for everybody in the world. Looking back now, I always say the Scorpions stand for love, peace, and rock & roll — the love and peace is "Wind of Change," and the rock & roll is "Rock You Like a Hurricane."
Jabs: I guess we are the most popular rock band from the West over there. We just toured Russia in the summer, to enjoy the better temperatures there, because it can get cold, and gray, and miserable in March and April or in November, when it's not so pleasant. But this time, we were there in May and June, the atmosphere, sometimes at an outdoor show, is "Wow." The people really have developed very well. We know that from 27 years ago, when we were there the first time, that it was a very cool audience; they know the music. So the shows we have there are just fantastic.
FOX411: The message of a song like "Wind of Change" [from 1990's "Crazy World"], which talks about walls coming down and people coming together after being separated by cultural barriers, still applies today, don't you think?
Jabs: Absolutely. Music can build bridges, as we say, that can connect people. Look how we did in Russia. In Egypt, we played at the pyramids. We've been to Tel Aviv a couple times, and they love us there; they come in from Jordan. We play Dubai; they come in from all the Emirates, and they're all together. Beirut, we've played there many times, and Kuwait, too. So far, we've never really been confronted with anything. We play all those countries, but you have to have two passports. You can't have an Israeli stamp in Pakistan. But they all come to our shows and they all celebrate together, which is great.
We just went to China for the first time. That was a fantastic experience. It was a big festival, like 50,000 — maybe not so big for China (laughs) — but it was a lot of people anyway! It was right near the famous Yangtze River. Right after that, we got offers for six more shows in January, so it looks like, finally, after so many decades, we are breaking into the Chinese market. It doesn't have any rock history, of course. It seems like modern cities like Shanghai are more focused on dance music, which is typical for these days. But it was amazing — the crowd was singing the lyrics in their own interpretations, but they knew our songs, for sure.
FOX411: How great is it that "Rock You Like a Hurricane" [from 1984's "Love at First Sting"] seems to connect with every generation?
Schenker: Yes! I think "Rock You Like a Hurricane" is the anthem of the '80s. It's pure rock & roll, completely. I mean, what can I say? The '80s was the best time for rock & roll. The record companies had money, they put parties on like crazy, and made money like crazy because of putting out the digital CDs that they pulled from the albums. It was a fantastic time. We had Aerosmith, AC/DC, Def Leppard, Ozzy Osbourne, and then Metallica came in. Unbelievable.
FOX411: I think you guys may have created the cage-match concept, since you had that fence in the "Hurricane" video.
Schenker: Exactly, yes! (laughs)
Jabs: We've discovered in the past ten years that we have a fairly young audience, under 20 and in their early 20s; lots of them. At least in the first rows; that's what we see. They're jumping up and down and singing the songs. They probably learned them all from YouTube, all the songs that were written and performed and released way before they were born. Songs like "Blackout" and "Big City Nights" — they know all the words, tiny little girls of 19. Obviously it's nicer to look at them than some gray-haired bearded guy who is my age. (chuckles)
FOX411: The first song on "Return to Forever" is called "Going Out With a Bang," but you guys can't leave now. You have to keep going.
Jabs: Thank you very much. We have the same feeling. Saying bye-bye and all that, when we said we were going to retire [after the "Get Your Sting" and "Blackout" farewell tour in 2010-11], didn't feel right. We did it, we were convinced, and we were serious about it, but it didn't feel right. It never felt right. And then we realized, we're having too much fun. What else are you going to do, sit at home? We love what we are doing and it's so much fun to go out on the road, so we've just got to continue doing what we love.
Schenker: Oh, no — we're going in with a bang! (laughs) We like that. We said farewell in 2010. It is what we meant, but we have so many young people now, over 6 million Facebook fans, and 80 percent of them between 18 and 28 years old — it's a new, young rock generation of people. That inspired us to make new music and get to these people to show them that music is a great language where we can communicate perfectly.
It's a family. It's a rock family. Seeing people at the airport telling us, "No, you can't go away!" — you notice how much these people appreciate your music. And that's fantastic. You have to say goodbye to see how welcome you are.
Mike Mettler is the former editor-in-chief and current music editor of Sound & Vision, and he interviews artists and producers about their love of music and high-resolution audio on his own sites, soundbard.com and hiresaudiocentral.com.