'Frasier' star Jane Leeves remembers John Mahoney: 'I loved him so much'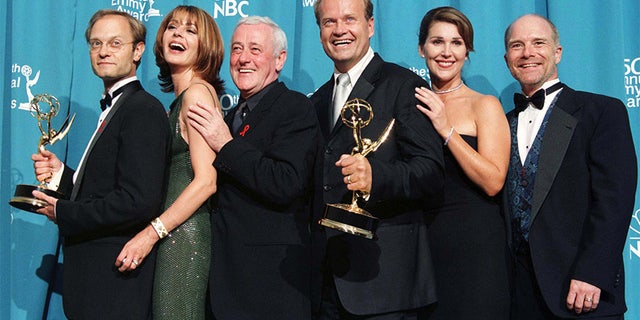 Jane Leeves shared her memories of John Mahoney, her "Fraiser" co-star who died on Monday at the age of 77.
In a statement to The Wrap, Leeves called Mahoney, "the dearest sweetest man I have ever known."
Leeves starred with Mahoney on the '90s sitcom, in which she played Daphne Moon from 1993 to 2004. The two had a very close relationship outside of the show, and Mahoney was the godfather to Leeves' son Finn.
The former co-stars recently reunited on the TV Land series "Hot in Cleveland."
"His wicked sense of humor usually whispered in your ear or spoken just loud enough that only you could hear could bring you to tears. And his smile. Oh my God. He was lit from within," said Leeves. "How lucky I am to have had him in my life. I loved him so much and will miss him so terribly."
The star's publicist confirmed the reports of his passing to Fox News. Mahoney's longtime manager, Paul Martino, said on Monday that Mahoney died after a brief hospitalization.
In 1986, Mahoney won a Tony Award for best-featured actor in a play for his work in "The House of Blue Leaves," and in 2000 won a Screen Actors Guild award for performance by an ensemble in a comedy series for his work on "Frasier."
Mahoney starred as Martin Crane on the hit NBC sitcom for more than a decade.
In one of his last interviews before his death, Mahoney spoke with Fox News about his time on "Frasier" and beating cancer twice.
"When I left England to immigrate to the United States, I didn't think I would ever miss anything more at that time… But it was just as bad to leave 'Frasier' and those friends behind. I can't tell you how close we were every single day for 11 years. We just adored each other and still do."
Though he battled cancer more than once, Mahoney said he would not let his health get in the way of his work.
"I refused to yield to it because I love what I'm doing so much," he reflected. "And I refuse to sit at home and feel sorry for myself. Instead, I just want to get out there and do another job."
Fox News' Nicole Darrah, Tyler McCarthy and Stephanie Nolasco contributed to this report.