Ford pulls ad featuring bound and gagged Kardashian sisters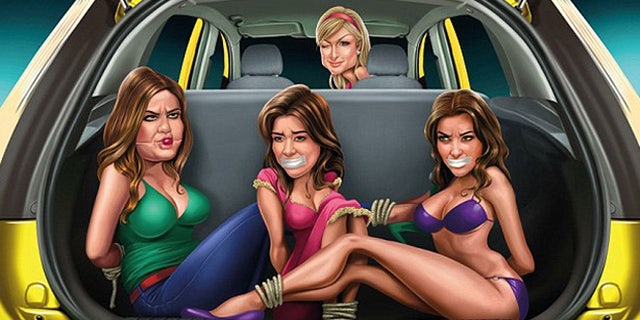 An advertisement showing the Kardashian sisters bound and gagged has been pulled, The Sun reports.
The Ford poster – produced for the Indian market – had a cartoon of Kourtney, Kim and Khloe tied up in the trunk of a car with a smiling Paris Hilton in the driving seat.
It was one of a series of images with the tag line: "Leave your worries behind with Figo's extra large boot."
Another shows the scandal-hit former Italian Prime Minister Silvio Berlusconi driving a car with three scantily clad, bound and gagged females shoved into the trunk.
Ford has now withdrawn the images, which were produced by advertising firm JWT India, and apologized.
"The posters are contrary to the standards of professionalism and decency within Ford and our agency partners," the car company said in a statement.