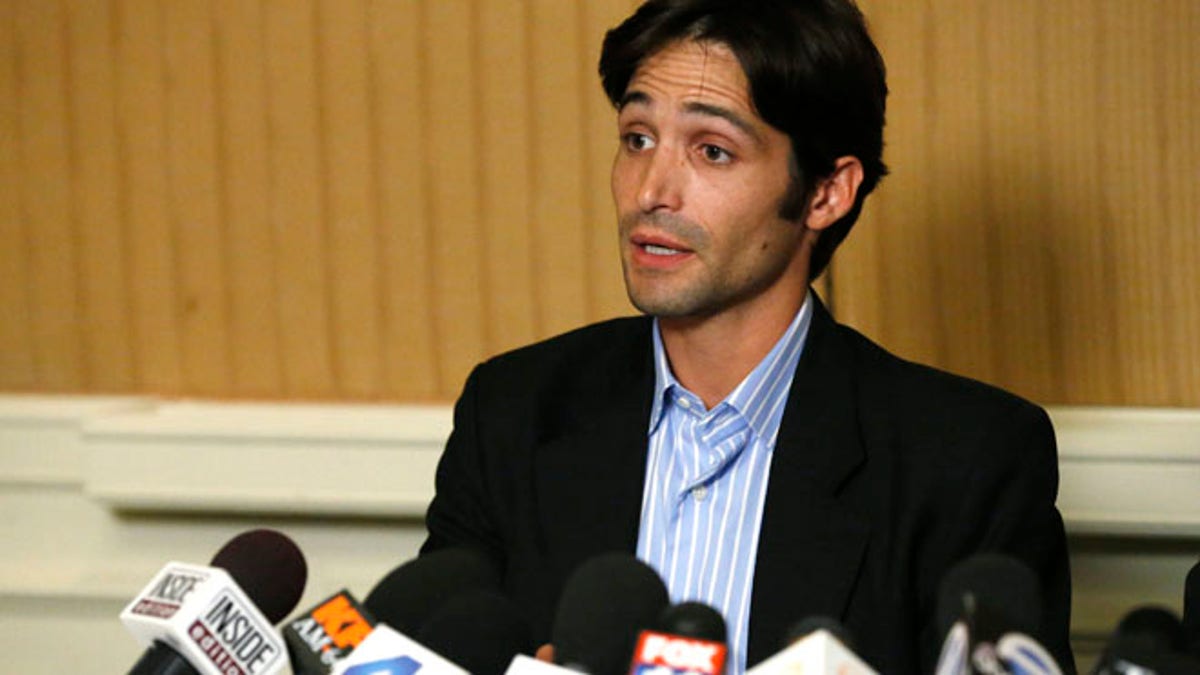 Michael F. Egan III said in a press conference Thursday that he and other minors were "passed around like pieces of meat at sex parties" by director 'X-Men' Bryan Singer and others in the late 1990s. Egan also claimed his mother went to the FBI and LAPD in 2000 with the allegations, but has no idea what was done with her testimony.
Egan, now 31, said in a lawsuit filed this week that Singer, the director of the popular 'X-Men' franchise, drugged and repeatedly raped the then 17-year-old aspiring model/actor in 1999.
A spokesperson for the FBI said action was taken from the mother's interview, but declined to say exactly what was done with it.
"Our office investigated allegations and successfully prosecuted a man in or around 2000. I'm limited in commenting on any litigation, and the FBI does not comment on information provided to agents about alleged crimes, unless the claims become a matter of public record; however, the suggestion that the FBI ignored evidence involving the sexual victimization of a child is ludicrous," the spokesperson told FOX411. "The FBI vigorously pursues all allegations involving the sexual abuse of minors and, pursues prosecution when evidence of such crimes is brought to its attention."
This isn't the first time Singer has been in trouble involving minors. In 1997, a 14-year-old extra from the thriller he directed entitled "Apt Pupil" accused Singer and others working on the film of forcing him and two other underage boys to get naked during a shower scene. The case was later thrown out for insufficient evidence.
Singer's attorney Martin Singer – who also handled sexual assault claims against John Travolta – says this week's suit is "without merit."
"We are very confident that Bryan will be vindicated in this absurd and defamatory lawsuit," he stated. "It is obvious that this case was filed in an attempt to get publicity at the time when Bryan's new movie ("X-Men: Days of Future Past") is about to open."
Egan's lawyer Jeff Herman said he would be filing more lawsuits against Singer and others involved in the alleged acts of abuse.
"Hollywood has a problem with the sexual exploitation of children," he said.
The fifth installment in the popular 'X-Men' franchise, starring Hugh Jackman, Jennifer Lawrence and Halle Berry is slated for theatrical release May 23, with promotion for the movie already underway.
Deadline reports that due to the lawsuit, Singer will be skipping planned appearance at this weekend's WonderCon event in Anaheim. The website also reports Singer's name is being removed from commercials for the new TV series 'Black Box,' which he produced.
According to the highly-explicit suit, the illicit activities started at a mansion in the Los Angeles area known as the M&C Estate, where principals of streaming video company Digital Entertainment Network, Marc Collins-Rector and Chad Shackley, lived. Shackley's younger brother Scott was a classmate of Egan's.
The court documents also claim that Collins-Rector molested Egan and threatened him with a firearm if he did not comply.
Although he was not named as a defendant in this particular case, Collins-Rector is already a registered sex offender. In 2004, he pled guilty to enticing five minors across states lines for sexual relations.
The suit goes on to allege that further abuse by Singer happened at the Paul Mitchell estate in Hawaii, where Egan was forced to take cocaine and was repeatedly raped in a swimming pool with his head held underwater.
The plaintiff has requested a jury trial and is seeking an unspecified monetary amount in damages for charges of "intentional infliction of emotional distress, battery, assault and invasion of privacy by unreasonable intrusion."
The LAPD did not immediately respond to a request for comment.
Follow @holliesmckay on Twitter.