Farrah Abraham reportedly files restraining order against 'Mob Wives' star Drita D'Avanzo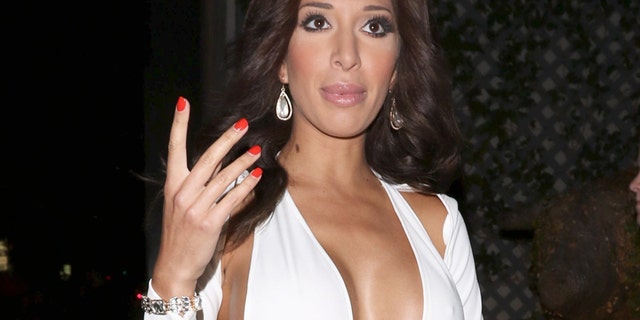 Farrah Abraham is taking her feud with "Mob Wives" star Drita D'Avanzo a step farther. The former "Teen Mom" star has reportedly filed a restraining order against D'Avanzo after some threats made online.
According to Us Weekly, Abraham has filed a restraining order just two days after her social media beef with D'Avanzo ended with the "Mob Wives" alum threatening to "smack the f--- out" of her.
The feud began when Abraham posted a video to her Instagram story in which she reportedly called D'Avanzo a "has been" and accused her of being unprofessional following a joint appearance in Atlantic City, New Jersey, the previous week. It's unclear exactly what happened to prompt Abraham's words, but it's clear that D'Avanzo wasn't having any of it.
In an expletive-filled tirade on her own Instagram, D'Avanzo, who was arrested in 2016 for attacking a woman in Staten Island, called Abraham out on her words and slammed her for her career in the adult film industry. She ended her video with a not-so-subtle threat.
"The last time someone tried to test me, they ended up putting me in jail," she wrote, referencing her previous arrest. "I will tell you one thing, I'm not gonna closed-fist punch your face in, I'm going to open hand smack the f--- out of you, straight up, on sight, just so you know."
After Abraham responded with an equally nasty tweet, in which she called D'Avanzo a "psycho" and said her lawyer would be in touch with her, the "Mob Wives" star was back at it again with a new Instagram video.
"This will be the last time I waste my breathe on that little piglet Farrah," she began. "She did tweet me and called me low class trash — this is coming from a girl that walks by a soda bottle and is like, 'Hey, if I shove this up my a--, can I make a dollar?' — and then she said I act like a criminal, which I'm not going to lie made me laugh."
D'Avanzo continued: "And then she said that her lawyer would be contacting me. Um, why? Weren't you the one who just woke up, f----ing ripped off your face making a video wrecking me? Did you tell your lawyer you're a d--k-sucker?"
Other than the reported restraining order, Abraham, has yet to issue a response.